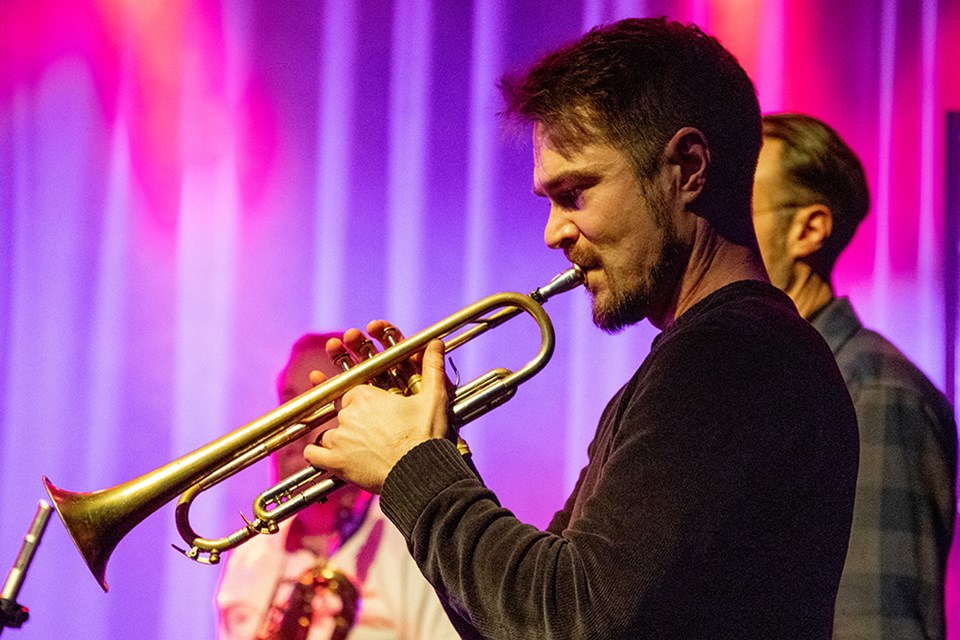 We Jazz brings hot jazz to Freezin´ Finland
This place is cool. Not that big, but not super small either. First you have to go up a flight of stairs and then you are in the middle of the cozy bar. To the left is the stage and in front of it, separated from the bar by a wall, is a space for those who really want to hear the concert that is already playing. the Ilmiliekki Quartet plays, an illustrious quartet with some of the most exciting names in the young Finnish jazz scene. Verneri Pohjola (top photo), for example, plays the trumpet, and that night he always plays it a little cloudy, with a melancholy undertone. Just as the sound of this group only sometimes rises and seeks its way to brilliance and daring. The bass is played by Antti Lötjönen Quintet East, a combo with three wind instrumentalists, including the two saxophonists Jonas Kullhammar and Jussi kannaste and of course trumpeter Verneri Pohjola. This quintet relies heavily on improvised communication between them, which can however become a bit tiring during a concert.
To access the Lötjönen group hall and the other acts of the evening, you need to familiarize yourself a little with Helsinki. The venues for We Jazz are spread all over the city anyway; every night he goes somewhere different. This has been part of the concept since 2013, the year of the first edition of the festival. Young saxophonist Linda fredriksson (above – photo of Maarit Kytöharju) presents for example his first solo album Juniper (on We Jazz Records, by the way) on the second floor of an interesting store in the middle of the shopping street in central Helsinki. During performances in a rather simple room called Mittarikorjaamo, you have to take off your shoes each time. Why, in fact, none of the visitors know. And some of them don't like to do it either, because a little snow is already falling outside. So you are happy when your feet are warm and stay warm. But it's worth taking your shoes off for some very melodic, timelessly beautiful jazz from the Finnish pianist quartet Riitta Paakki, with, you guessed it, Antti Lötjönen play bass. Warm music.
This year, festival organizer Matti Nives and his dedicated team will also be bringing jazz to life in a funk and techno club a bit far from central Helsinki. The building has two rooms, and you can walk from one to the other if you don't like something. With the Joona toivanen Trio, however, it is worth dwelling on, as the pianist and his two companions in arms on bass and drums create a palette of multi-colored sounds from engaging melodies and moments, which they expand and repeatedly color with sound treatments in an exciting way. Their brilliant new album The two only will be released next February on We Jazz Records.
The electroacoustic quartet Y-Otis by the Swedish saxophonist based in Berlin Otis sandsjö, on the other hand, offers exactly the music you need at midnight. Loud, modern and slightly modified sounds, with hip-hop grooves and shimmering saxophone lines, perfect for nodding and rocking. Jazz club which rightly creates a lot of enthusiasm in the public.
But not only music, with a very gratifying emphasis on the Finnish national jazz scene, was in the rich program of the festival. At a round table, for example, the artistic director of Jazzfest Berlin, Nadin deventer, spoke of courageous programming. And the American writer Ashley kahn illuminated John Coltrane's masterpiece Supreme love down to the smallest detail, offering a fascinating glimpse into the making of this century album by the unforgettable jazz legend.