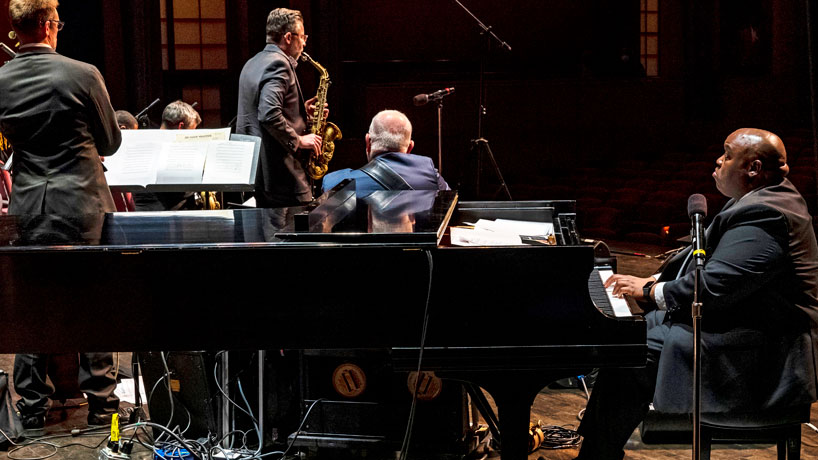 UMSL's Greater St. Louis Jazz Festival returns after a two-year hiatus – UMSL Daily
Chris Hollingsworth, a junior at St. Louis–Missouri University, had missed performing in the Anheuser-Busch Room at the Blanche M. Touhill Performing Arts Center.
Performances in space were put on hiatus due to the COVID-19 pandemic, but the UMSL Jazz Orchestra member was lucky enough to return to this stage last week as the Jazz Festival du Grand Saint-Louis returned after a two-year hiatus.
"The acoustics are very different," Hollingsworth said. "Anheuser-Busch Hall is much bigger."
The jazz orchestra closed the two evenings of the festival, which attracted 500 high school students performing in 33 groups. Over the festival's 15-year history, over 535 schools have participated, reaching over 12,000 students.
This year, the festival drew school districts from as far away as southwestern Missouri. The nationally acclaimed festival provided an opportunity for students to observe, learn and have fun in front of an audience.
This was the first year that the Greater St. Louis Jazz Festival was led by Adaron Jackson, director of the David and Thelma Institute for Jazz Studies at UMSL and assistant professor of music. The musician, educator and clinician took over as director of UMSL's jazz program shortly before the onset of the pandemic, which prevented him from immediately taking the reins of the event.
It was a great undertaking which he believed would be a beneficial and educational experience.
"This festival is designed to support the development of participating schools' music programs," Jackson said. "Our goal is to inspire students and band directors through the experience of receiving professional feedback from clinicians and adjudicators and to provide the opportunity to experience the performances of world-class jazz musicians."
Each group was given an hour and a half for warm-up, performance, and clinical reviews.
Sydney King, a senior and drummer in the 30+ member jazz ensemble at Triad High School, has been playing multiple instruments including bass guitar, guitar, piano and saxophone since she was 9 years old. Initially, jazz did not interest her, but she came and ended up seeing it as a means of expression. She eagerly awaits criticism in order to improve her musicality and that of the group.
"I'm hoping to gain a little more knowledge of how this band works because we really are a great jazz band," she said. "With so many people, I know we can sound a little better with intonation and stuff like that."
Other students, such as Natalee Huff of Parkway West High School, also found the festival beneficial and were able to glean information not only from the judges, but also from the other groups.
"I think it's really good to see different schools with different backgrounds and different teachers," she said. "I could find a song and maybe learn it on my own."
Like the students, the members of the jury were enthusiastic about the festival and the visit of different high school jazz ensembles. Sam Griffith, the director of jazz studies at Mizzou, was curious to see how the students would bring their own twist to the musical selections.
"There are so many different ways to interpret the music as a whole," Griffith said. "With the jazz solo, people have a say. I think it's different from most other music. I think that's one of the things I enjoyed the most.

Short URL: https://blogs.umsl.edu/news/?p=93398