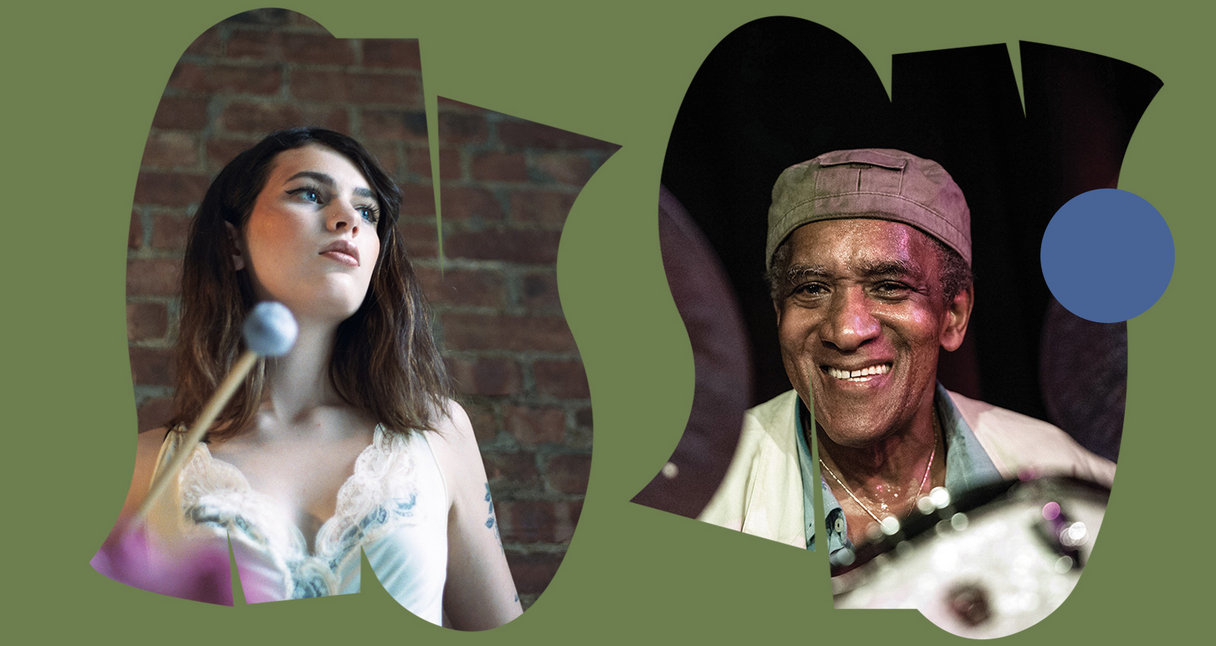 The best jazz on Bandcamp: August 2022
BEST JAZZ

The best jazz on Bandcamp: August 2022
By Dave Sumner September 07, 2022

One of my goals with this column is to highlight the diversity and sonic richness of the modern jazz scene. As for who makes the cut for inclusion here, the musicians make that part easy. This month's column is a good example. No two albums on this list belong to the same jazz subgenre, and all illuminate the boundless expressionism of musicians on the modern scene.
Kokoroko
Could we be more

Kokoroko drove modern jazz fans crazy with the single "Abusey Junction", which was featured on the Brownswood Recordings compilation We here. An EP followed, which only temporarily alleviated the intense expectation for the septet's debut. And so, here we are. Could we be more delivers on the band's original promise of melodic sunshine and infectious grooves, and takes advantage of the freedom of a full recording to explore all of its different facets. A bit of modern space jazz, a bit of 70s soul jazz and good doses of afro-beat come together for a recording that will fit perfectly into the summer season.
Gaston de la Cruz Quinteto
constellation

In the same way that the strongest moonbeams can penetrate an overcast sky, the melodies of constellation shine with great impact. This effect is just as strong on a dissonant piece like the opening track "Hamal" as on the magnificent languor of "Aldebarán". The Argentinian quintet of guitarist Gastón de la Cruz, double bassist Martín de Lassaletta, drummer Nahuel Flores-Catino, pianist Javier Caire Paulino and saxophonist Federico Viceconte (along with guests José Marín and Valentín Garvie) really put something on special together here: a forward recording that offers countless moments of exhilaration and beauty.
Kalaha + Hilal Kaya with Aarhus Jazz Orchestra
Tutku

Tutku is both joyful and haunting, as likely to actively engage the listener as it is to hypnotize. This convergence of Turkish psych, modern jazz, electronic pop and orchestral jazz brings bold sound to every harmonic explosion, with cadences designed to make you move move move. Singer Hilal Kaya, guitarist Niclas Knudsen, drummer-percussionist Emil de Waal, keyboardist Jens "Rumpistol" B. Christiansen, synthesizer Mikael "Spejderrobot" Elkjær and the Aarhus Jazz Orchestra have brought together one of the most fun of 2022.
Sasha Berliner
Onyx




. 00:10 / 00:58
I hesitate to mention the specific dynamic interplay between vibraphonist Sasha Berliner and drummer Marcus Gilmore lest it deviate from how this band sounds as a whole. The harmonious unity of melody and rhythm on the latest Berliner is an absolute joy to experience, and the quartet's strength is perhaps best illustrated in the way it effortlessly incorporates guest artists like saxophonist Jaleel Shaw, the synthesizer Julius Rodriguez and vocalist Thana Alexa, as if they've been part of the work unit for years. But, yes: I could have listened to a multi-volume recording of Berliner and Gilmore doing their thing, and still complained that the end came too soon.
Selebeyone
Xaybu: the invisible

If I were to compile a list of the ten most iconic tracks of the modern jazz scene, I would be hard-pressed not to include "Are You In Peace?" of the beginnings of Sélébéyone. The ensemble's confluence of modern jazz, hip-hop and electronic music has an undeniably compelling gravitas. Steve Lehman and Maciek Lasserrre's sax lines are lessons in precision, cutting paths between and around the vocals, in both Wolof and English, of Gaston Bandimic and HPrizm, while drummer Damion Reid is both the sky and ground, giving them dimension and context. Their second outing is no less dramatic, no less intriguing and amplifies the statement made by their debut.
Al Foster
reflections

You can't go wrong with this old school recording from jazz legend Al Foster. The drummer, joined here by trumpeter Nicholas Payton, saxophonist Chris Potter, pianist Kevin Hays and bassist Vicente Archer, selects ideal compositions to bring out the personality of each musician within the framework of familiar melodies. The album comes to us from Smoke Sessions, who have done an admirable job of featuring jazz legends like Foster alongside the stars of the modern scene.
ghost heart
Summons

Sounding like they're propelled by rocket fuel, the trio of saxophonist Jarrett Gilgore, drummer-percussionist Ian McColm and bassist Luke Stewart deliver a stunning set of music. It flows freely, wild and untamed, while retaining a focus and cohesion that heightens melodic intensity. The Washington DC-based trio quiet down a bit as they approach the album's conclusion, and the ensuing bad mood is positively electric.
Side-Eye & Grace
enlighten

Chamber jazz quartet Side-Eye & Grace throw a bit of folk and a bit of ambient electronica into their music, and end up feeling like they share a line with Bill Frisell. ghost town. It's a heady dose of tranquility, with just a little fuss every now and then for a few welcome bursts of tension. Violinist Erik Johnson-Scherger, guitarists Kyle Jordan and Garrett Warner, and bassist (and pianist) Chris Pond make up the Ottawa-based band.
Jeremy Rose
Face to face

Against the backdrop of a modern jazz landscape increasingly defined by its desire to travel far beyond the music's roots, it's always refreshing to encounter a direct recording that provides no less thrill and breathless excitement than its more experimental counterparts. This quartet session by saxophonist Jeremy Rose, pianist Steve Barry, bassist Noel Mason and drummer Alex Hirlian sticks to a simple formula of vibrant melodies and a fascinating conversational rhythmic style, and the arithmetic yields an exquisite gem. . Most of the tracks on the album have an upbeat personality, but when the quartet get moody on a track like "All About KB", a certain charisma emerges that is undeniably magnetic. Face to face is a beautiful window into the Sydney Australian scene.
Darren Pickering Small Worlds
Volume 1

Here's something for those peaceful moments when the gently falling rain instills a serenity into the world that you hope will never end. Pianist Darren Pickering, guitarist Mitch Dwyer, bassist Pete Fleming and drummer Mitch Thomas keep melodies crisp and clear and use them as a guiding principle to steer the rhythmic conversation. A few tracks get the pulse racing a bit and a few others dive into ambient jazz territory, but overall this Christchurch, New Zealand-based quartet sticks to a direct sound that moves to the rhythm of clouds drifting on the horizon. .
forest choir
forest choir

The Forest Chorus Quintet splashes the rocks across the surface of their tunes and rides the waves and ripples as far as they will go. Sometimes they offer a vivid image of a straight-ahead track, something with an old-school blues or jazz feel, and those expressions resonate all the more strongly for being so fleeting. It won't be long before it all falls apart again, but it's the musicality of the chaos that takes this recording to another level, where the focus is not on the sonic differences between cohesion and collision, but on the transient nature of the melodies that occur between these states. It's the idea that even in a state of flux, beauty can be held in relief. Forest Chorus is made up of saxophonist Mikko Innanen, trumpeter Seba Saenz, guitarist Caleb Veazey, bassist Miller Wrenn and drummer Joonas Leppänenn.
Matthew Halsall
The inner temple

Here's a patch from Matthew Halsall to carry you through to his next release. From the same creative edge that gave us the excellent 2020 hello to the sun, this EP provides additional textures from the Manchester-based trumpeter's modern perspective on spiritual jazz. There are darker tones and overpowering grooves, but overall it has that same ethereal melody that makes Halsall's music so enchanting. If this is your introduction to Halsall's music, then let me take this opportunity to mention that any list of modern jazz classics should include his second release in 2009. Color Yes (recently reissued in deluxe edition).