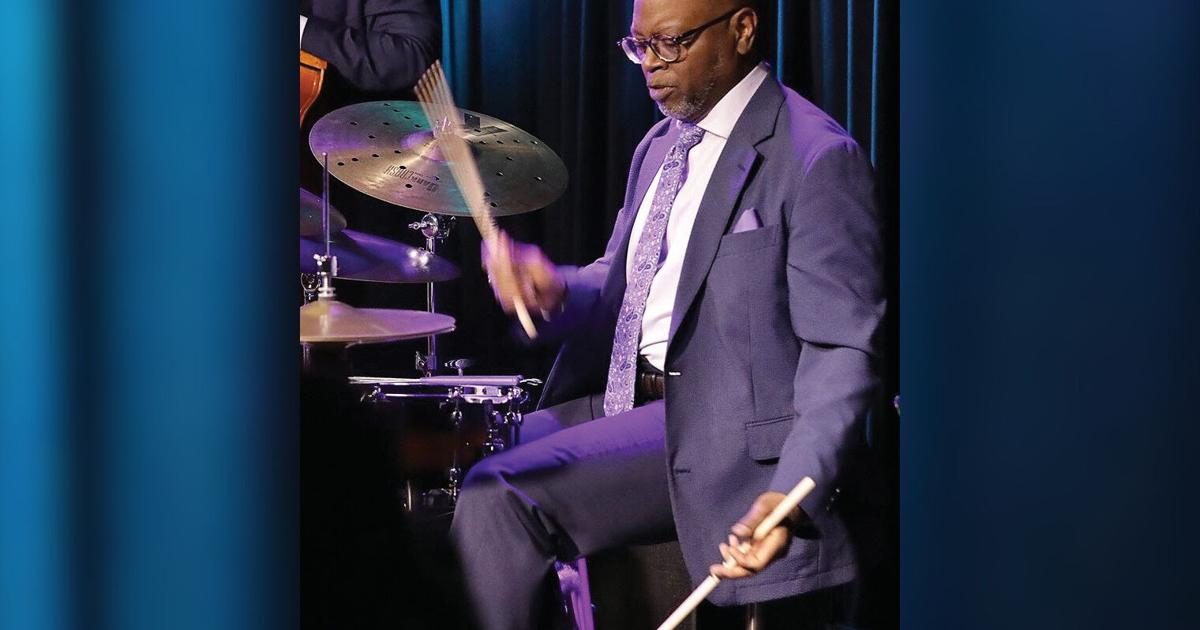 Tempe Jazz Series Merges With Scottsdale Venue | get out
Tempe-based Lakeshore Music, which for 14 seasons was a premier jazz concert series, has merged with Scottsdale-based Ravenscroft Hall.
According to Lakeshore President/Founder Woody Wilson, the renamed Ravenscroft Jazz Series will begin its 2022-23 season on September 17 with a concert presented by jazz drumming legend and Valley native Lewis Nash.
Wilson, a longtime civic leader and pioneer of the Valley's jazz scene, has been named executive producer of the rebranded jazz series, Ravenscroft manager David Bauer said.
"Woody Wilson is a legend in the local jazz community, producing and promoting incredible concerts for many years," Bauer said. "We are thrilled to have him bring this knowledge and experience to our inaugural Ravenscroft Jazz Series season."
The Ravenscroft Series will be presented monthly from September through May at Ravenscroft Hall, 8445 E. Hartford Drive, just southeast of the 101/Princess Drive loop in the Scottsdale Perimeter Complex.
Ravenscroft Hall is an intimate 200-seat concert hall featuring state-of-the-art Meyer Constellation audio and video capability. It offers an optimal listening experience and perfect viewing from any seat.
"After 14 years of running a single-handed 501(c)(3) nonprofit, I'm thrilled to entrust this part to the Ravenscroft team," Wilson said. "Being separate entities for the first year made sense. No one was certain that the Tempe Center for the Arts move would work out to everyone's satisfaction.
"But, last season proved that the move to Scottsdale was not only successful in terms of audience development, but that our missions were compatible and everyone was committed to making it work.
Wilson predicts significant cost savings "by eliminating the duplication of effort that accompanies two nonprofits in the same building performing the same mission."
The Ravenscroft campus includes the Jazzbird Lounge, where patrons can enjoy a drink and light appetizers. It has a small stage and tables for around 100 people. Many of the Valley's top jazz artists are booked for Jazzbird every Friday night as part of the free Jazzbird Nights series.
"For me, it's been a wonderful 14 years of showcasing the best jazz artists in the world," Wilson said. "COVID-19 nearly killed us, but Bob and Gretchen Ravenscroft stood by us through the toughest times. And when Bob told me he was going to build our own theater, I jumped at the chance.
"It will be bittersweet to close Lakeshore Music, but another door has opened for me and I am walking through it," Wilson said. "I couldn't be happier with our future prospects. Our jazz concerts in Ravenscroft have brought the patrons of Lakeshore Music to an incredible new place.
Here is a brief preview of his upcoming season. All concerts begin at 7:30 p.m. at Ravenscroft Hall. Tickets: 602-679-0590, lakeshoremusic.org, [email protected]
Lewis Nash and his friends,
September 17.
Nash, whose career spans more than four decades, has appeared on more than 500 recordings, 10 of which have won Grammys. He is the only musician in the history of jazz to appear on the Grammy Award winners in the albums "Best Jazz Vocal" and "Best Jazz Instrumental".
In 2017, Nash joined the faculty at Arizona State University as the Bob and Gretchen Ravenscroft Professor of Jazz Practice. The Lewis Nash Scholarship Endowment is awarded annually to a jazz student.
Alicia Olatuja,
October 22.
Alicia Olatuja burst onto the national scene in 2013 as the featured soloist with the Brooklyn Tabernacle Choir at President Barack Obama's second inauguration.
Growing up in Saint-Louis, she was immersed in gospel, soul, jazz and classical music. She started appearing in gospel and jazz concerts. Composer/arranger/pianist Billy Childs brought her to be part of "Map to the Treasure: Reimagining Laura Nyro" while on a national tour.
Trio Christian Jacob,
November 19
Grammy-nominated pianist/arranger Christian Jacob first rose to prominence as Maynard Ferguson's musical director, then as co-leader of the Tierney Sutton Band. His extensive discography includes five critically acclaimed trio recordings and eight Grammy nominations.
In 2016, Jacob composed the original score for director Clint Eastwood's box office hit, Sully, with Eastwood and Sutton, for a 70-piece orchestra.
Beth Lederman & Jazz Con Alma, December 17.
A mainstay of the keyboards in the Phoenix jazz scene for more than 30 years, Lederman, originally from Arizona, has developed an eclectic and sophisticated sound that features influence ranging from bossa nova and swing to pop music, all played with sincere integrity.
Samara Joy,
January the 21st.
Samara Joy's star seems to rise with each performance. Growing up in New York, her home was filled not only with her father's songs, but also with the inspiration of many Gospel and R&B artists. Her father toured with gospel artist Andrae Crouch. His grandparents, Brother Goldwire and Ruth McLendon, led the Philadelphia-based gospel group The Savettes.
Joy studied jazz at SUNY Purchase, eventually being named the Ella Fitzgerald Scholar and winner of the Sarah Vaughan International Jazz Vocal Competition.
Trio by Bill Charlap,
February 18.
Grammy Award-winning pianist Bill Charlap has recorded albums featuring the music of Hoagy Carmichael,
Leonard Bernstein, George Gershwin, Irving Berlin, Cole Porter, Richard Rodgers and Duke Ellington. Charlap's collaboration with Tony Bennett on "The Silver Lining: The Songs of Jerome Kern" won the 2016 Grammy for Best Traditional Pop Vocal Album.
Hers, who have been together for nearly a quarter of a century, have earned multiple Grammy nominations.
Michel Kocour,
March 18.
A concert featuring jazz pianist-composer Michael Kocour would be exceptional entertainment value on its own. Embellish with Mark Turner on tenor saxophone, Jason Palmer on trumpet, Ben Hedquist on bass and the incomparable Lewis Nash on drums and it elevates to a blockbuster.
Kocour, director of jazz studies at Arizona State University, has performed in venues around the world for more than three decades. His recorded work as a session musician includes soundtracks for two films.
Turner's sound contains elements of John Coltrane. Palmer, among the most sought-after musicians of his generation, has recorded 13 albums. Hedquist, assistant professor of jazz bass at ASU, holds a doctorate in double bass performance. Nash is one of the most popular and prolific jazz drummers today.
Artemis,
May 20. (7 p.m. & 9 p.m.)
Artemis, a dynamic supergroup of
six of the most acclaimed women in modern jazz, is known for her cosmopolitan and elegant sound. Put on stage bassist Noriko Ueda, clarinetist Anat Cohen, tenor saxophonist Nicole Glover, pianist and musical director Renee Rosnes, drummer Allison Miller and trumpeter Ingrid Jensen and the result is beyond belief.
Rosnes first brought the band together for a European festival tour. She selected musicians she respected and wanted to make music with. Each is a unique character, creating versatility and making their music fascinating.