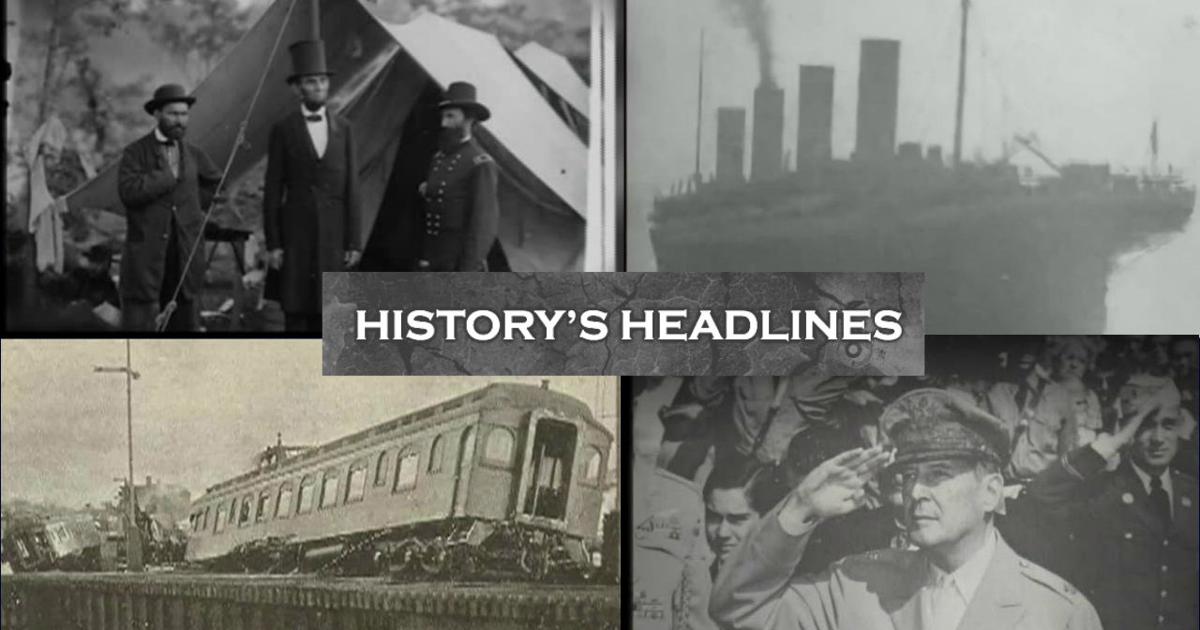 Story Titles: All That Jazz | Great headlines in history
In 1961 America had a lot of music to listen to. Elvis was back from the army and he and his manager, Colonel Parker, were ready to kick-start his career.
Jazz saxophonist John Coltrane recorded his first live album, "Live! at the Village Vanguard," and would sell around 30,000 copies of another, "My Favorite Things."
In March of that year, jazz great Louis Armstrong appeared on Ed Sullivan's popular television variety program after returning from a tour of Africa as a "goodwill ambassador" for the Department of State. Sullivan pointed out that during his visit to the Republic of the Congo, a temporary truce was called in a civil war so both sides could hear Armstrong play.
At the New York Philharmonic, the charismatic conductor Leonard Bernstein offered the public a musical reintroduction of the symphonic poems of Gustav Mahler. The film version of the musical "West Side Story" he had collaborated on had just been released, and Bernstein had been selected to direct the pre-inaugural events for newly elected President John F. Kennedy.
That same year, on transistor radios and jukeboxes, Roy Orbison was "Crying", the Shirelles asked for "Will You Love Me Tomorrow", and Connie Francis wanted to be "Where the Boys Are". From stereos across the country came the music of piano duo Arthur Ferrante and Wilkes-Barre native Louis Teicher (aka Ferrante & Teicher), their version of the theme music from the movie "Exodus." It joined their lush 1960 arrangement of "Apartment Theme", another film score, in suburban record holders.
It was also the year that a newly married couple from Pennsylvania, Allan and Sandra Jaffe, ended a long honeymoon in Mexico. They had promised their families in Philadelphia that they would be back soon. But first Allan, a native of Pottsville, wanted to stop over in New Orleans. While serving in the military, he had heard the authentic sound of Crescent City played by African American musicians where he was from and wanted to share it with his wife. Arriving in the French Quarter, they heard music coming from a nearby art gallery. It was a combo playing traditional jazz. It seduced them both. A few days later they came back.
Seeing their attachment to music, gallery owner Larry Borenstein announces that he is moving his business next door. Would they be interested in renting the space (31 by 20 feet) for $400 per month? "We didn't even think twice about it," recalls Sandra Jaffe several years later. "'Of course,' we said, and that was the start of Preservation Hall. We never left New Orleans.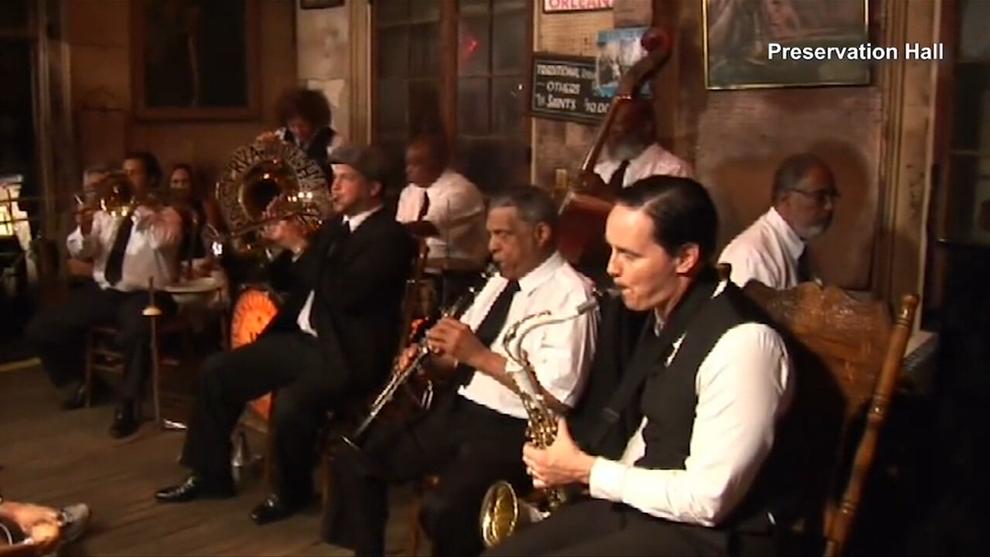 It would have been hard to imagine in 1961 that the Jaffes would have the life they lived after that year. Allan was the son of Harry and Fanny Jaffe who owned a paint and wallpaper store in Pottsville. He had attended the Wharton School and was ready to pursue a career in business. Sandra was born Sandra Smolen and came from a Jewish family in Ukraine. Her father Jacob held various jobs including running a gas station, and her mother Lena was a housewife. Sandra studied journalism and public relations at Harcum College in Bryn Mawr and graduated with a bachelor's degree in 1958. She worked for an advertising agency for two years and married Allan on Christmas Day 1960.
The late jazz great Dave Brubeck once greeted Armstrong, using his popular nickname, with the words "This is Pops, our dad to all." And Armstrong's jazz roots ran deep in his hometown of New Orleans and spread around the world. Traditional jazz had not died out in New Orleans in 1961. According to one source, it was still played among a group of black musicians for weddings, funerals and other events and for tourists at local clubs. But among the many musical styles that existed, it was in danger of becoming a historical artifact. The Preservation Hall was unique. It did not serve alcohol, had about 50 seats on six benches, and until 2019 had no air conditioning.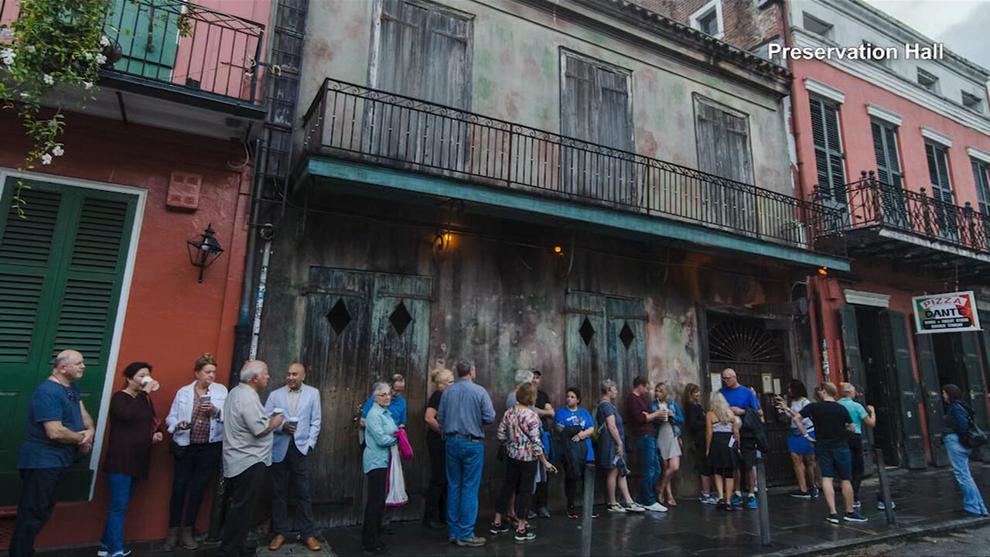 "The Jaffes played different roles at Preservation Hall," notes the New York Times. "Allan Jaffe, who played the helicon, a brass instrument, was the link to the musicians and sent them on the road as the Preservation Hall Jazz Band. Mrs. Jaffe, who shared management duties with her husband, was usually stationed at the front door of the venue with a basket on her lap collecting money from customers.
Their son, Ben, who plays with the band and now runs Preservation Hall, recently told an interviewer about the unique role she played:
"That's how many remember her: as the first to interact with people," he recalls. "She was also the de facto bouncer and security; she had to step in when people were inappropriate or espoused racist language. My mother would bite first, then assess the situation.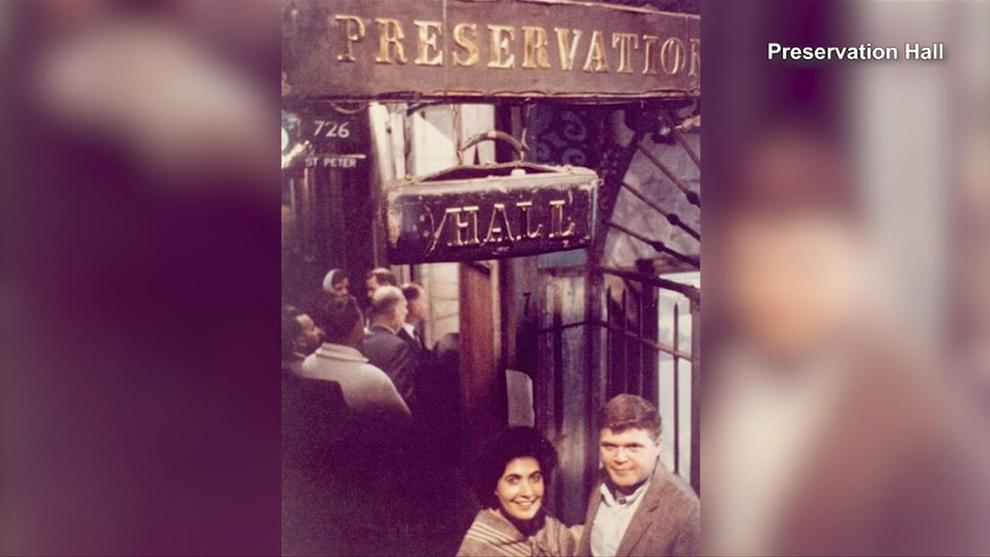 The Jaffes insisted on running an integrated business in violation of then-existing Jim Crow segregation laws. On several occasions, they were summoned by the authorities for violating these laws. A character Ben Jaffe remembers as Judge Babylon sounded like something out of a Tennessee Williams play. "In New Orleans," he said as he tapped his gavel, "we don't mix our coffee and our cream." Sandra Jaffe burst out laughing and said, "Funny, the most popular thing in New Orleans is latte."
Once they paid the rent, the Jaffes and other community members created the New Orleans Society for the Preservation of Traditional Jazz to book musicians. It was several months later that they opened the room. To support themselves, the Jaffes took jobs, Allan at a department store and Sandra at a typesetting company. Attendance at Preservation Hall really took off after a two-and-a-half-minute play featuring Allan Jaffe on NBC's "Huntley-Brinkley Report," a late-night news program in the 1960s. The band performed worldwide and recorded since.
No admission was charged at first. Instead, a basket for donations was distributed. When someone seemed unwilling to give, Sandra would shake them until they came back. Eventually they charged a dollar. Today, prices range from $25 to $50.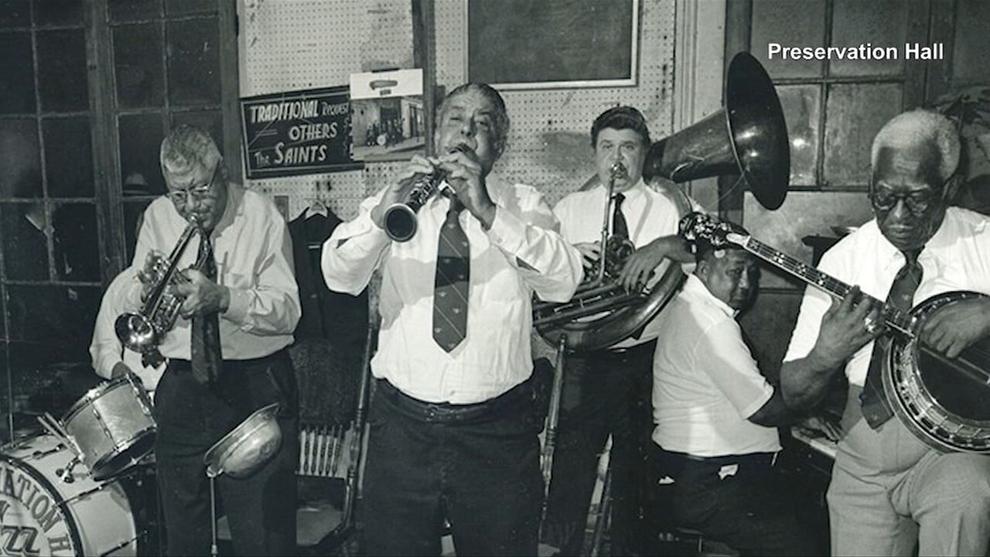 Among the Preservation Hall Jazz Band musicians cited by The New York Times are pianist Sweet Emma Barrett, brothers Willie and Percy Humphrey (who played clarinet and trumpet), husband and wife Billie and De De Pierce (she played piano and sang, he played trumpet and cornet). Ben Jaffe currently plays sousaphone with the band.
In 2006, the Preservation Hall Jazz Band received the National Medal of Arts. He was cited for "displaying the unbreakable spirit of New Orleans and sharing the joy of jazz with all of us" after Hurricane Katrina floods.
Another family member who was part of the group was Sandra Jaffe's sister, Resa Lambert. "I took the band on tour for many years," she says. "I was roadie for seven men, it was awesome." The Jaffes also had another son, Russell. Sandra had another sister Brenda Epstein.
Allan Jaffe died of cancer in 1987. Sandra died last year on December 27. She had continued to be involved in Preservation Hall almost to the day of her death, even sweeping the floor. "She called every day asking about ticket sales and tours," her son Ben recalled. "She always felt engaged and was always engaged even when she wasn't physically there."
In 2011, George Wein, who produced the Newport Jazz Festival and the New Orleans Jazz & Heritage Festival, summed it up this way: "There is no doubt that the Preservation Hall saved New Orleans jazz.