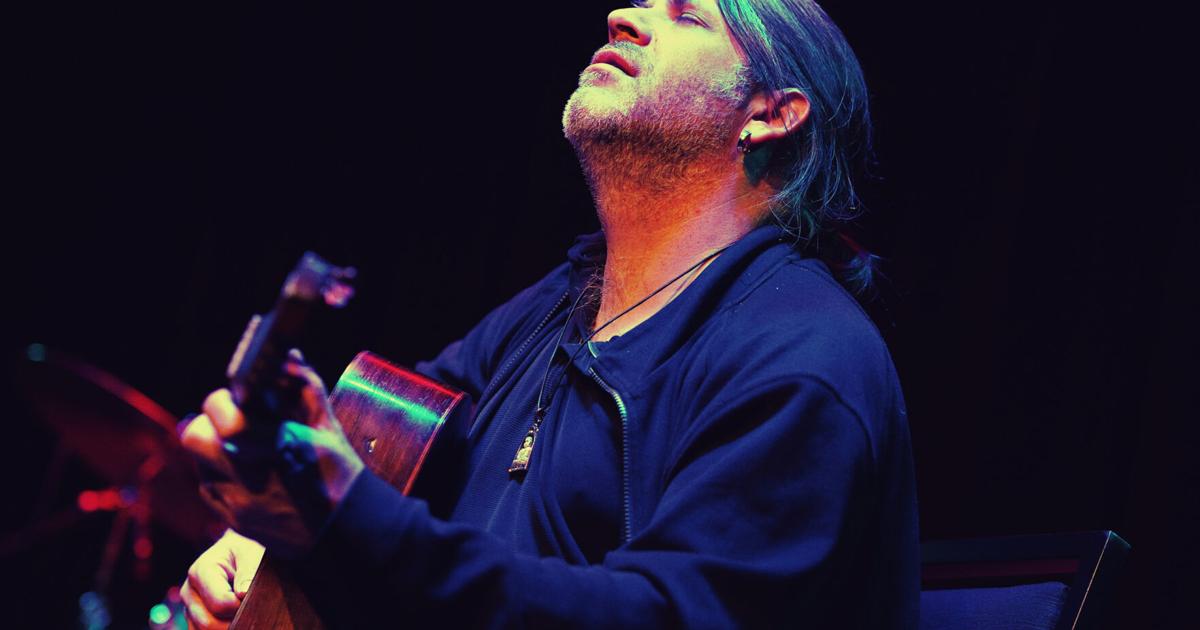 Stéphane Wrembel will play his 'Gypsy Jazz' on Friday at the Knick | Entertainment
WESTERLY — Stéphane Wrembel, the French guitarist known as "the living face of gypsy jazz", a musician who has been described as "simply one of the best guitarists in the world", has a surprise for local fans who come to hear the Knick play on Friday night, and it's great.
"Daisy Castro will be playing the violin," Wrembel said Monday afternoon when discussing his music, the score he created for Woody Allen's new movie, "Rifkin's Festival," and Friday's concert.
"She's a pure genius," added Wrembel in his distinctive French accent, "and my favorite violinist."
"His soul pours out music and shows incredible creativity, poetry, imagination and dreams," Wrembel told Jersey Jazz Magazine.
The whole show "is going to be really, really good," predicted Wrembel, who learned to play music with the gypsies while spending time at their campsites in the French countryside.
Josh Kaye on guitar, Nick Anderson on drums and Ari Folman-Cohen on bass will join Castro and Wrembel.
"Every show is different," he added. "Different and unique. It depends on the crowd.
"So," he added with a laugh, "this will be your only chance in the whole world."
Wrembel, who has performed at the Knick several times over the years, rose to prominence with his "Bistro Fada," a track that captivated moviegoers and music lovers a few years ago in Woody's "Midnight In Paris." Allen. His original compositions were also featured in Allen's "Vicki Cristina Barcelona" ("Big Brother").
"Rifkin's Festival" is Allen's fourth film to which he says he "had the privilege of contributing music."
Born in Paris and raised in Fontainebleau – the home of Impressionism and Django Reinhardt – Wrembel first studied classical piano at the age of four.
"My teacher has played with many top musicians," Wrembel said in a musician statement. "She was very old school but she taught me how to perform and how to do a phrase from start to finish. All my classical training from age four to 16 was about how to perform."
In his mid-teens, he says, he discovered he had an affinity for the guitar.
"I started training very intensely," he said. "I was a big fan of Pink Floyd, it's still my favorite music."
Wrembel spent hours learning the style from David Gilmour. At 17, he decided to become a professional musician.
"I knew I had to train 18 hours a day, and after graduating from high school I decided that was what I was going to do," he said. "I had a classical education, a passion for rock, then I discovered Django. I fell in love with the very strong impressionist side of his music."
"Some live in Django's shadow," he said, "others live in his light…that's the path I've chosen."
Known for the breadth and depth of his playing and his unrivaled compositions, Wrembel has been releasing a steady stream of music since 2006. Guitar company Gitane even named a model in his honor.
A few years ago, he and his band started recording tributes to Reinhardt on Water Is Life Records. "The Django Experiment I and II" came first, followed by "The Django Experiment III" and "The Django Experiment IV".
Wrembel released "Django L'Impressionniste", featuring 17 of Reinhardt's preludes for solo guitar, followed by a book of his transcriptions in April 2021.
All albums feature the band's interpretation of Reinhardt's songs, as well as original compositions by Wrembel and those of other authors in the same musical vein.
"The Django Experiment I" and "II" were released in conjunction with the Wrembel-produced "Django A Gogo" concert held at Carnegie Hall. The event received rave reviews and featured guitar masters Al Di Meola, Larry Keel, Stochelo Rosenberg and other talented musicians all celebrating the music of Django Reinhardt.
Since 2003 it has produced the Django a Gogo Festival, bringing together some of the world's finest musicians to celebrate the Sinti guitar style and perform at prestigious venues such as Carnegie Hall and City Hall.
His show "Django New Orleans" recently sold out eight shows at Jazz at Lincoln Center's Dizzy's Club. His other program, "Shades of Django," will premiere at performing arts centers across the country this fall.
"Gorgeous, gorgeous," award-winning guitarist Wrembel said Monday afternoon. "Everything was very organic."
Regarding the process of working with Allen on "Rifkin's Festival", Wrembel described the process as "very organic" and "rather vague".
"It was vague but that's good," he added with a laugh. "I like to keep things vague."