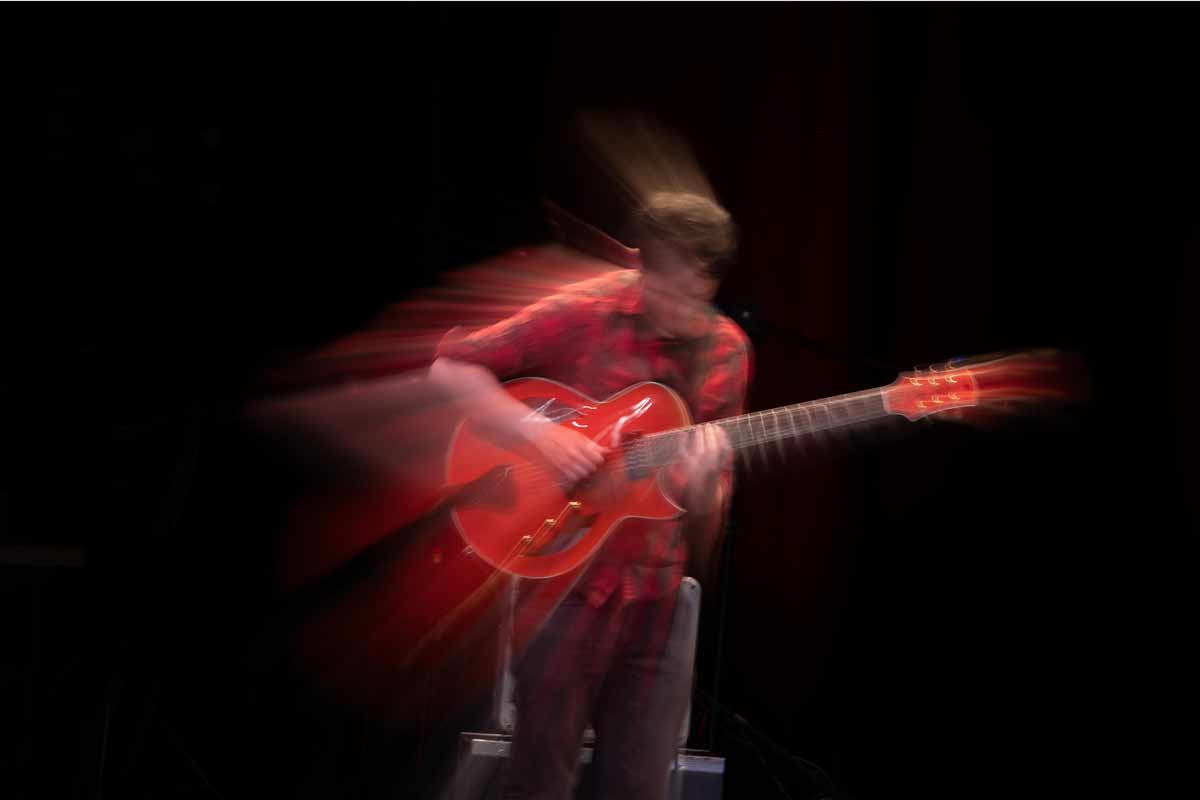 SLIGO JAZZ 21: UMBRA METHOD & RHYTHM
UMBRA METHOD and RHYTHM
at Hawks Well Theater, 8 p.m. FACEBOOK LIVE and YOUTUBE
SHADOW
Making their first performance since 2019, UMBRA performs at Sligo's Hawk's Well Theater. This concert is produced virtually as part of the Sligo Jazz Festival 2021
Chris Guilfoyle – Guitar / Chris Engel – Soprano saxophone /
Barry Donohue – Bass / Matt Jacobson – Drums
"Without doubt one of the most exciting jazz ensembles in Europe"
"A vibrant set of original tunes… thrilling back and forth between the two saxophonists, but even in the midst of the most exuberant solos, a strong sense of collective groove reigned. – Everything about jazz
Umbra is one of the most exciting and innovative groups on the Irish jazz scene. Comprised of some of Dublin's most promising musicians, Umbra's modus operandi is a high-energy, thought-provoking performance with an emphasis on complex compositions.
Led by guitarist and composer Chris Guilfoyle, Umbra is his vehicle to present his unique vision of contemporary jazz. The music is a blend of harmonic and melodic sophistication reminiscent of artists like John Hollenbeck and Jim Mcneely, cyclic grooves evoking comparisons to IDM and math metal, all played with the energy of a punk rock band.
The individual strengths of each member are showcased in the compositions while blending masterfully into a cohesive and recognizable group sound. Drummer Matt Jacobson and bassist Barry Donohue create wonderfully elastic grooves, while the contrasting brass of soprano Chris Engel and tenor Sam Comerford make the most of the explosive frontline in the company of Chris Guilfoyle's intricate guitar playing. .
RHYTHMIC METHOD
Bill Blackmore – Trumpet
Shane Latimer – Guitar
Darragh O'Kelly – Keys
Cormac OBrien – Double bass
Shane O'Donovan – Drums
Rhythm Method was co-founded in 2009 by guitarist Shane Latimer and bassist
Cormac OBrien, with the addition of Bill Blackmore on trumpet, Darragh O'Kelly
on keyboards and Shane O'Donovan on drums a collaborative project featuring five of the
Dublin's most innovative and creative musicians have been created.
The writing responsibilities are shared and the music reflects the different creations
personalities of the group. The group strives to deliver a cohesive sound that explores the possibilities of minimalism, groove, free improvisation and eerie meters, with an emphasis on lyricism and musicality over extended forms.
The music is reminiscent of Miles Davis' In Silent Way and Bitches Brew with elements of many different styles of music, from rock and jazz to classical and contemporary.
https://rhythmmethodmusic.bandcamp.com/
https://www.facebook.com/music.rhythmmethod