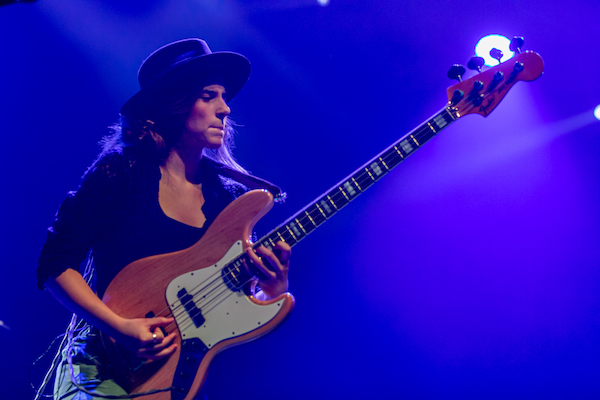 Poland's Szczecin Jazz Fest doubles in length and expands international reach
---
By Martin LongleyIApril 5, 2022

Szczecin is a port city in northwestern Poland, very close to the German border. In 2021, its annual jazz festival coincided with a short-lived lockdown lifting, with nearly all of its concerts taking place with live audiences. This year, Szczecin Jazz has doubled in length, opening at the end of February and running until mid-March. The city's official music mayor, tenor saxophonist Sylwester Ostrowski, organizes Szczecin Jazz, specializing in an international scope that has formed a network of exchanges and collaborations. Besides the expected Polish artists, there were significant presences from the United States, the Netherlands and the Catalan region of Spain.
Wallace Roney Jr. is, like his recently deceased father, a trumpeter. He led a quartet that also included tenor saxophonist Emilio Modeste, who had already made a name for himself when he joined Scatter The Atoms That Remain in New York. Modeste also performed regularly with Roney Sr. The quartet appeared in the small theater of the Filharmonia, Szczecin's main concert hall. The first number ran for about 45 minutes, elaborating involved solos from the horn players, with only brief statements of a group theme. This lack of organizational substance was compensated for by slow attention to the overall architecture. Oliver Bomann's growing electric bass groove imposed an edgy aura of 1970s Miles Davis, accompanied by the swarming, shimmering cymbals of Papa Malick Koly. Eventually, the quartet nearly hit the two-hour mark, but each solo maintained its fiery (trumpet) or smoking (saxophone) grip throughout. It would have been nice to hear more articulate horn patterns, but it was a sound to stretch inside, reflecting on the nature of longevity.
Polish electric bassist Kinga Głyk performed in Filharmonia's largest venue, leading a funk-jazz fusion band. It has a rapidly growing status that is already spreading across Europe. It was nice to find Głyk playing a four-string bass, eschewing the tendency to use five or six strings, and focusing on the basic sounds in his frequently high-pitched range, articulated via expanded string action. Paired with a pair of keyboard players, Głyk occasionally worked as a lead guitarist, as well as a low-end specialist. She also sang a few songs, although these were mostly designed to encourage audience response. "Overdrive" was fuzzy on the bass, but too soft on the keys, and only frustrated for a few minutes. good taste. Głyk would sound much better with a horn player in its ranks.
The Tomasz Chyła Quintet, from Gdańsk, delivered an ensemble that resonated with individuality and intensely adventurous expression. The electric violinist led a three-night takeover of cellar club Jazzment, focusing on his 2021 da Vinci album. Chyła's violin sound has a gritty, mournful bite, laced with subtle electronic effects, and finding a well-suited foil in Emil Miszk's equally tear-tinged trumpet. Equally important is Krzysztof Hadrych's guitar, itself bringing a bleeding edge, contributing to the gradual growth of each composition. As it should be, all members of the group were dressed in black. On a rocking second number, Hadrych was prominent, in a progressive wrap, trumpet pointillism was also rampant. "A Constant Stream Of Consciousness" had a jagged folk violin solo, regularly encroached by guitar overload. Swift bowing led to a loosely framed trumpet solo that could have paid homage to Ron Miles. The violin became abrasive again, slowly descending, dragging hard and energetically. Drummer Sławek Koryzno went electronic, spilling other textures, before stuttering beats over guitar phrases, as a harbinger of King Crimson emerged for the doomed end, with extreme guitar effects to lift a bubbling violin solo. Chyła's music constantly explored contrasts and atmospheres, always flowing logically.
The Irene Reig quintet appeared on Jazzment the following night, with the Barcelona alto saxophonist also inviting vocalist Marta Garrett to join in for most of the set. Reig's 2021 Album Mira is full of hardcore alto bebop flows, but such an extension was ruled out once Garrett stepped up, as the songs returned in a reflective, softer state. Since the concert was quite brief, it would have been a good idea to play two club-style sets, the first without Garrett, thus highlighting these two quite different musical aspects. The tunes were well suspended, with soulful trim, Reig still being very eloquent on the alto, but with shorter bursts. She makes sure the whole group is hyper-alert. Garrett offered a bolero, bringing lounge sophistication, not so much as a guest vocalist, but rather as an integrated member of the band. The encore of "I Remember You" sent the audience home with a moving farewell alto solo.
There will be a festival coda on April 6, when The Cookers perform at the Szczecin Puppet Theater. comics
---
​Ron Miles: 1963–2022

March 10, 2022 12:06

Ron Miles, the Denver-based sympatico cornetist, composer, educator, bandleader, and sideman who shared the stages and…

The cooks are, from left, George Cables, Billy Hart, Donald Harrison, Eddie Henderson, David Weiss, Billy Harper and Cecil McBee.

8 Feb 2022 12:12 PM

In July 2020, four months after COVID-19 locked down the world, The Cookers entered Van Gelder Studio to record To see…

Tierney Sutton, right, and Serge Merlaud.

February 9, 2022 06:00

Singer Tierney Sutton has released a beautiful new ballad, "I Knew I Loved You". This is the first single from…

New Orleans is gearing up for this year's return of the Jazz & Heritage Festival.

8 Feb 2022 12:05 p.m.

It was packed with people at the 37th Annual New Orleans Jazz and Heritage Festival, where tens of thousands of music…

"Don Cherry had his own original thing going…and you can't replicate it," says Randy Brecker.

March 20, 2022 10:45 p.m.

Randy Brecker performed four blind tests, according to DownBeat records. This was his first in a long time…