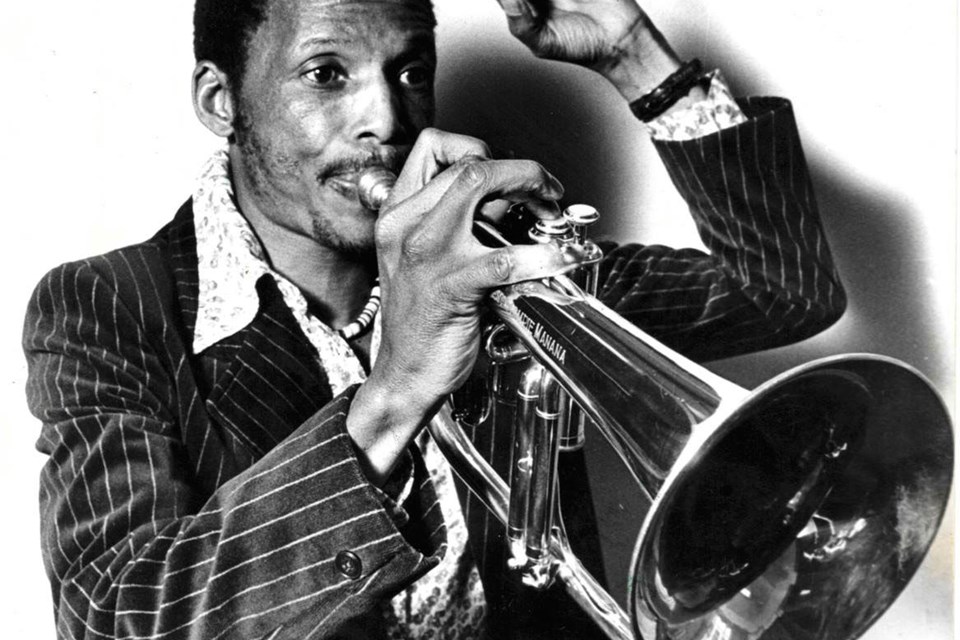 Kippie Moeketsi and the birth of South African jazz
The open-bottomed truck that had turned into a hearse for a day was slowly driving up Zulu Drive.
He was heading for Cape Town Cemetery, where saxophonist Kippie Moeketsi was to be buried.
Behind, the procession stretched for more than a mile.
On that day in May 1983, the saxophonists paid a funeral tribute to what they called "the father of South African jazz", a man who had been the friend and mentor of countless South African musicians, including Hugh Masekela and Abdullah Ibrahim (formerly Dollar Brand), who had both left behind the rigid segregation of their homelands to gain international recognition.


"

Kippie could have turned out to be something as awesome as anything Charlie Parker had ever shown us





From a distance, they joined in silent prayer: "My sadness slowly began to dissipate that afternoon," Ibrahim said years later. "Kippie's life was not wasted. How could it have been when it was Kippie who gave us everything we know? We built on what he taught us.

People on that day in May 1983 also spoke of the saxophonist's searing brilliance, a raw genius that Masekela, another who wanted to be there that day on Zulu Drive, achieved after moving to the United States, "Kippie could have blossomed into something as awesome as anything Charlie Parker had ever shown us. It wasn't until I was in the States for a while and played with all of their greats names of jazz I realized how great Kippie had always been, if he had lived in America he would have been up there with Bird and Trane.

Instead, Kippie Moeketsi remained in a South Africa plagued by venality and crippling ambiguities, and eventually it was too much.

He died a poor alcoholic with only one album under his own name.

Today Moeketsi is considered a key figure in the history of South African jazz – for example, in 1997 a musical about his life opened at the Civic Theater in Windybrow, Johannesburg.

South African jazz is a story that has remained hazy and indistinct over the years because its political power was seen as a threat to the apartheid mentality and as a result it was downplayed and disrupted; Moeketsi suffered the confiscation of his instrument by South African border authorities during a trip to Malawi and was deprived of his work permit, which kept him out of professional music for about seven years keys in the mid-1960s.

Stoma Manana

Here in Britain, South African music first gained attention in the late 1950s with the release of the album Ssomething new from africa at a time when kwela – the urban dance music, often whistled – was still heard on the street corners of Johannesburg.

Little Lemmy 'Special' Mabaso emerged from the album as a star, launching music from African townships onto the world stage.

In the 1960s a key element of the London jazz scene was a contingent of South African musicians, among the best known were Chris McGregor & The Blue Notes, saxophonist Dudu Puckwana, trumpeter Mongezi Feza, bassist Johnny Dyani and the drummer Louis Maholo.

They and others have created their own vibrant music scene at places like the Flamingo, the 100 Club, the Roundhouse, the old Ronnie's and the Hampstead Country Club. But of the South African jazz scene that gave birth to these musicians, little was known.

In apartheid South Africa, jazz had taken root in the 1940s and early 1950s from 78 rpm records imported from major American bands.

These recordings had inspired local musicians to form their own groups to play dances in the 1950s, but reinterpreted with kwela and marabi local musical influences and customs.

When bebop recordings hit South Africa, a modern jazz scene was born and one of the first to master the idiom was Kippie Moeketsi, who mastered the inner details of music by ear as other musicians were still playing big band music.

A willing teacher and mentor, in the late 1950s he could be seen and heard at Dorkay House at the end of Eloff Street in Johannesburg, where there was a fortnightly jam session.
Miriam Makeba
It was where all the jazz musicians used to meet and on some nights there was Kippie Moeketsi, Miriam Makeba, Dudu Puckwana, Hugh Masekela, Wilson Silgee, Jonas Gwangwa, Makes Nkosi and countless others, all part of a burgeoning modern scene from which emerged the most important South African jazz group of all, The Jazz Epistles.
Espistles grew out of the house band of the musical King Kong – part Broadway, part Township music – but Kippie Moeketsi, trumpeter Hugh Masekela and trombonist Jonas Gwangwa aspired to form an adventurous little band.
"Kippie, Hugh and I left for Cape Town, because Kippie was talking about this pianist he had met, Dollar Brand [later Abdullah Ibrahim]and Dollar came with Johnny Gertze our bassist [latter Claude Shange] and Makhaya Ntshoko our drummer, whose permission we had to obtain from his parents [later replaced by Gene Latimore]trombonist Jonas Gwangwa later said.
Only one recording of the band has survived, Jazz Epistles Verse 1, including original material; it was the first LP recorded by an African group.
"There had never been a band like The Epistles in South Africa," Masekela said in his autobiography. Still Grazing: The Musical Journey of Hugh Masekela.
Although the band members have previously recorded with pianist John Mehegan, an American exchange educator, the Jazz in Africathey largely executed American standards.
However, the true musical personality of the Epistles shone on Verse 1: he recognized the hard bop, marabi and kwela (which will later become mbaqanga) on tracks like "Uka-Jonga Phambili", "Dollar's Moods" and "Blues for Hughie" and Kippie Moeketsi's "Scullery Department".
Moeketsi would later say that the Epistles were "the most thrilling band I have ever played with".
Now deeply etched in the history of South African jazz, the story of the Epistles, according to Dr Sazi Dlamini of the University of Kwazulu-Natal, "has not been told because it is a hidden story".
Part of this "hidden history" includes Kippie Moeketsi's album, Tshona!originally on the Gallo label, which had a limited run of just 500 copies and was for years nowhere to be found (although part of the album briefly surfaced in 1992 on the Kaz label), but has now been reissued in full by Canadian imprint We Are Busybodies (read the review).
The 'Tshona!' sessions in 1975
Recorded with a band that included Pat Matshikiza on piano and Basil 'Manenberg' Coetzee on tenor, it's one of the many key albums We Are Busybodies release that offer a fuller picture of South African jazz; Coetzee shrimp boatsjust released by WABB is another.
Coetzee was just 15 and still living in District 6 when he sat down with the Dollar Brand Trio on Penny Whistle.
His saxophone style was shaped by Township jazz, his sound reflecting the life around him, where "there's a lot of poverty in the townships, and people are frustrated, and my sound is created in that environment".
Coetzee, who died in 1998, was another impressive saxophonist who won acclaim for his solo on "Manenburg Is Where It's Happening" with Dollar Brand's band in 1975; Manenburg was a settlement where many residents of District 6 were expelled when authorities leveled it.
Title of the album of the same name, it quickly became the most iconic of all South African jazz tunes, Capetonians even called it "our unofficial national anthem" and Coetzee's name is forever associated with it. .
After the Epistles were liquidated, Dollar Brand and partner Beattie Benjamin left South Africa in 1962 and were playing in Zurich when Duke Ellington's famous orchestra played there.
Dollar mark (Abdullah Ibrahim)
Benjamin persuaded Ellington to see his partner and Ellington quickly booked a recording session in Paris to produce Duke Ellington Presents… The Dollar Brand Trio.
Brand initially owed much to Ellington's patronage, but he quickly established himself internationally, and when he appeared at the Newport Jazz Festival, DownBeaHe observed that "Dollar Brand's music is a fresh breeze blowing from Mother Africa…he makes his own music, a remarkable pianist."
Brand returned to South Africa in 1973, where he recorded Dollar mark +3 — his trio with Kippie Moeketsi — an often-overlooked highlight in both men's discographies.
With a series of recordings made by Brand in South Africa in the 1970s, with Moeketsi and Basil Coetzee – 'Black Lightening', 'Little Boy', 'Black and Brown Cherries' and 'Ntyilo Ntyilo' – and tracks with Coetzee, whose "Manenburg" are recognized as classics of South African Township jazz.
This evocative, yet haunting sound also found its way into the African Jazz Pioneers.
Formed in 1981, it brought together many of the musicians assembled at the Dorkay House jazz sessions of the late 1950s and early 1960s who did not make headlines but were accomplished musicians nonetheless, including the trumpeter Stompie Manana (who played on Coetzee's shrimp boats), saxist Edmund 'Ntemi' Piliso and Timothy Ndaba.
The voicings and rhythmic inflections of saxophones, for example, can be heard today in vocal ensemble Ladysmith Black Mambazo, who brought the sound of Township's music to Paul Simon's $16 million-selling album. copies, graceland.
When South Africa's 'First Lady of Song' Miriam Makeba emigrated to the United States, she had a No. 1 hit with the 'Click Song'.
Her boyfriend Hugh Masekela, thanks to anti-apartheid activist Bishop Trevor Huddleston, had engineered an invitation for the trumpeter to study at the Guildhall School of Music in London.
When his passport finally arrived, it came right after the infamous Sharpville massacre and the government's banning of black musicians from downtown clubs.
This ended the Jazz Epistles but marked the start of Masekela's long and distinguished career.
At Guildhall, he obtained a scholarship for the Manhattan School of Music (1960-64).
Masekela, an exciting and fiery soloist, made several excellent albums in the period that followed; with his then regular band with Larry Willis on piano, these albums – and The Americanization of Ooga Booga, grr (both from 1966) and The lasting impression of Hugh Masekela (1968) – unites jazz and mbaqanga.
His 1968 No. 1 hit, "Grazing in the Grass", sold over four million copies and was based on "Township jive".
In 1987 he wrote "Bring Him Back Home (Nelson Mandela)" which became an anthem of the struggle against apartheid, the tragic but ultimately triumphant backdrop against which classic South African jazz is played.
But when, in the 1970s, Dollar Brand returned to his native country, he said, "After all those years in the United States playing traditional South African music, I told musicians that it's was that, that's what we should be playing. But most wanted to play pure American jazz, they didn't recognize the value of their own music.
Times had changed, South African jazz too.
---
This article originally appeared in the June 2022 issue of songs. Never miss an issue – subscribe today