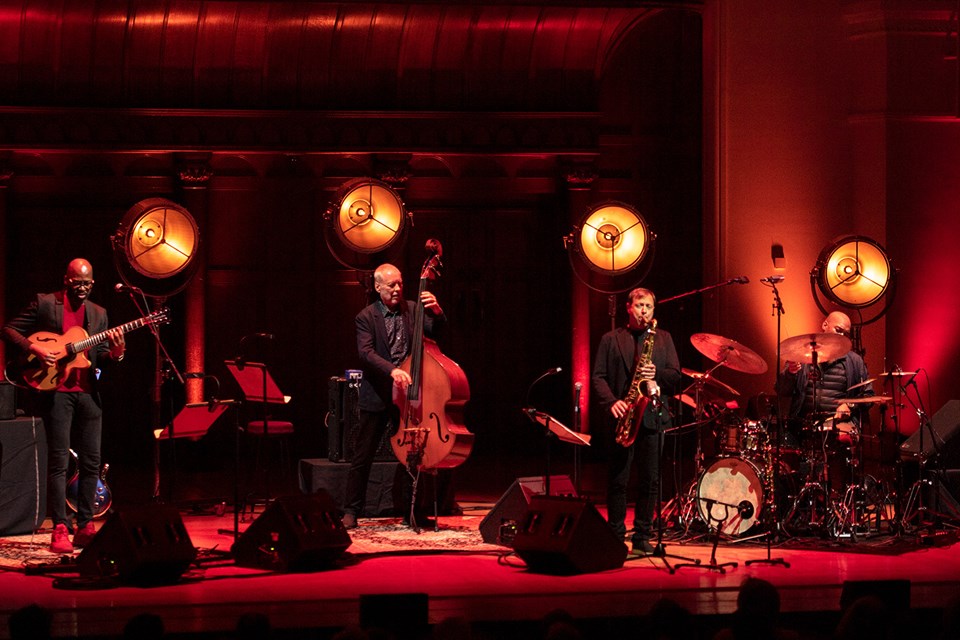 Jazz supergroup AZIZA dazzles at Cadogan Hall
The notion of a "supergroup," whether in rock, jazz, or any other form of music, conjures up images of clashing egos, competitive play, and ultimate collapse; not to mention disappointment and bathos if the individual elements don't completely gel. Long-time jazz supergroup Aziza are different. The Members – Bass Legend david hollandtop tier sax ace Chris Pottermaster drummer Eric Harland and guitar/vocal virtuoso Lionel Loueke – would certainly qualify for membership in any supergroup agglomeration, but this is a more democratic and organic endeavour; each member can shine, each has the chance to show off their composition abilities. Plus, these virtuosos clearly enjoy each other's musical company, and they play with against each other rather than against. And while Holland is by far the most prominent member and takes center stage more often than most bassists, he's not a catch-all. In this set, each member is a star.
It was difficult to pick out the highlights of Aziza's two-hour show, as every moment was an absorbing masterclass of improvisational music-making, marred only by the Cadogan's slightly toppy acoustics. But among the six tracks, Holland's "Another Land", Potter's "Blue Sufi" (featuring the saxophonist tapping out a rhythm with the keys of his horn, a supple bass workout and Loueke's explosive guitar solo) , Harland's tender ballad "Friends" and "Loueke "Sleepless Nights", with its brilliant riffs between saxophonist and guitarist, stood out. It's complex music made by musicians at the top of their game, but it's still extremely accessible and played with energy and emotion.
An extra nod too, for Loueke (above), who really is something quite special. His ability to switch between Burrell's jazz riff, tapped percussive harmonics, rock bomb and Herbie-esque synth guitar; as well as his remarkable vocal abilities (beautiful wordless singing punctuated with Xhosa-style clicks), are all something to behold. Dave's tribute to the late John Cumming, one of the founders and entertainers of the London Jazz Festival, was also a nice touch and drew a round of applause from the grateful audience.
If you're looking for a supergroup that really gels, then check out Aziza. Next time they visit the UK be sure to book a ticket… you're in for a treat.