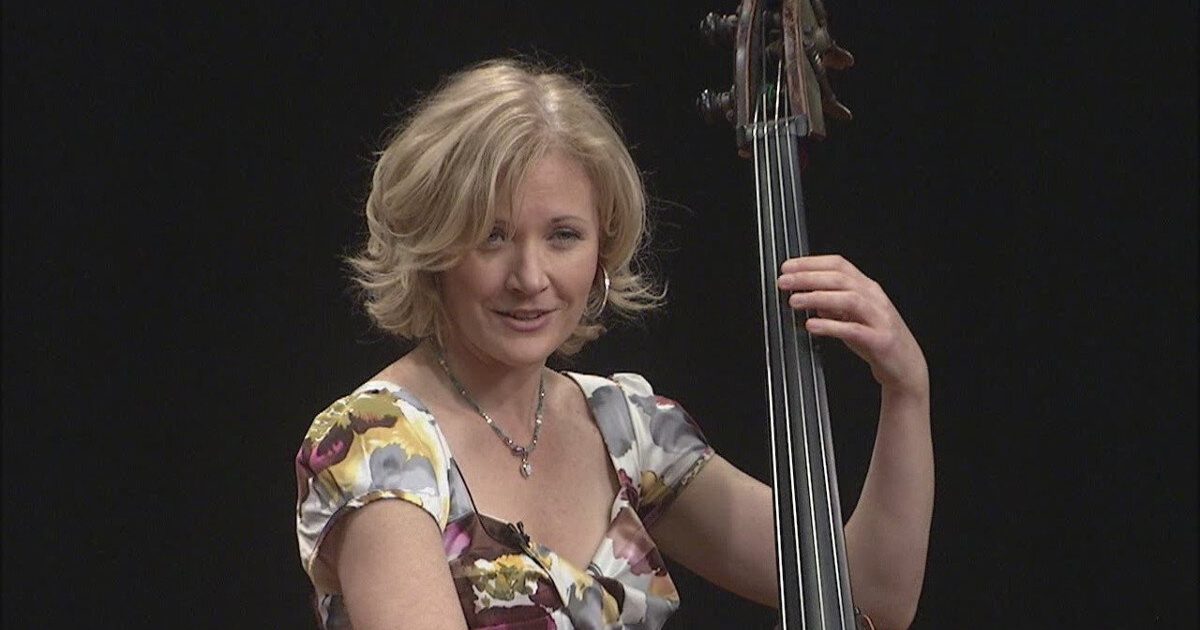 Jazz Jottings February 2022 – The Syncopated Times
Carol and Jeff Loehr don't know what number to give the 2022 Sa Valley Jazz & Music Festival, was scheduled to return to the Sawtooth Mountains of southern Idaho October 12-16. "The last live festival was #30 and was in 2019," the co-directors said. "That was three years ago, so does that make event number 33 this year? But the 2020 and 2021 festivals have been canceled due to the pandemic, so next in order should be No. 31."
The Loehrs haven't been entirely inactive over the past year. When Blaine County health officials shut down large gatherings in Sun Valley, they decided to invite their major sponsors to a jazz party-style reunion at their home in Battleground, Washington (just across the river Columbia from Portland, Oregon). Some 50 sponsors from as far away as Cincinnati were entertained by 13 musicians and a quartet, and everyone had a great time.
The Loehrs say all systems are GO at the moment and they remain optimistic that the 2022 Festival will take place in scenic Sun Valley, concluding, "We're doing it because it's what we love to do."
♫ ♫ ♫ ♫ ♫
When the bassist Nicki Parrot arrived in the United States from her native Australia in 1994, the plan was to stay for six months. Those six months have since spanned 28 years in which she has become a highly sought-after rhythm section performer, singer, songwriter and entertainer who travels the world performing at major jazz venues and festivals. In May, Nicki and her husband, record producer Brian Wittman, plan to leave their home in Connecticut and move to the Land Down-Under, leaving a big void in the American jazz scene.
♫ ♫ ♫ ♫ ♫
The Evan Christopher family left New Orleans to live in New York. . . actually Brooklyn. His daughter Ilena accepted an invitation to attend Special Music School at Kaufman Music Center in Manhattan. As Evan said, "Clarinet Road has gone from the town where jazz was born to the town where jazz became jazz".
♫ ♫ ♫ ♫ ♫
Two musicians struggling with serious health problems receive financial assistance following appeals for funds. Pianist Brian Holland launched a GoFundMe campaign for multi-instrumentalist Clint Baker, who suffered a heart attack and successfully underwent quintuple bypass surgery. Some 226 donors contributed $30,773 to ease Clint's financial burden.
Clarinet-sax superstar Ken Peplowski is undergoing multiple myeloma treatments that come with a hefty price tag. Donations should be made directly to Ken at 34 Hillside Ave., Apt. 4AA, New York NY 10040.
♫ ♫ ♫ ♫ ♫
People have written so many beautiful words about the late Maestro Barry Harris. Bassist Chuck Israel added his thoughts, saying, "Musicians and music lovers have lost a dear and generous friend. I don't know anyone else who has given so much on such a personal level to so many people.
"Jazz schools are structurally limited to primarily teaching the mechanics of music – certainly essential elements for achieving mastery. Those of us who have had the opportunity to learn music in learning circumstances when jazz schools were not available, often learned more efficiently and in greater proportion – a better hierarchy of what is important, despite (or perhaps because of) the lack of formal jazz education.
"In his classes, Barry devoted time and attention to teaching vocabulary and efficiency while displaying an almost endless patience and personal commitment unavailable in most school situations. For years it has been the antidote to the misaligned values ​​of the jazz school system – a misalignment that is not necessarily intentional, but is an integrated result of the way schools are organized. him for what he did and for what he enjoyed. Time spent with Barry was a lesson in music, inclusiveness, acceptance and understanding.
♫ ♫ ♫ ♫ ♫
Allan Vaché has been a professional musician for more than four decades, but realizes that the time has come to pass the torch to young musicians. In a Facebook post, he said: "I have been a professional jazz clarinetist for 46 years. I started playing the instrument when I was nine years old, and although in middle school and high school I played more saxophone, the clarinet was always my first love, and it's the instrument. which I majored in at university.
"I did various gigs in New Jersey, including a Broadway show in 1974-75, but late in 1975 Jim Cullum called me and offered me a job with his band in San Antonio, Texas. I moved there and stayed with his band for almost 18 years. When I left the band, I moved back to New Jersey for a year until Harold Johnson, frontman of the Rosie O'Grady's Goodtime Jazz Band, calls me and offers me the job with his band, I moved to Orlando and have been here ever since.
"In the 90s and early 2000s, I traveled extensively to jazz festivals in the United States and Europe, including two tours in Russia. The point of all of this is that as I approached my 68th birthday, I began to realize that the playing opportunities became fewer and fewer for me as a clarinetist. Once you start reaching a certain age, you have to be ready to step aside and let the younger ones take over.
"Gigs for musicians in general have all but disappeared during the pandemic, but as things start to reopen, I see younger players getting the gigs. I am not complaining. It's always been like that and I get it. I was a young player myself, and I'm so grateful for the opportunities I had and for all the amazing musicians I had the chance to play with throughout my career. The most important thing has always been to keep the music alive, and young players will do that.
"As my career draws to a close, I urge all jazz fans to encourage young players to keep going. Jazz has always been esoteric music and not always popular with the masses, so it needs your support. In the meantime, I plan to continue playing a gig or two, I still have some notes in me.
♫ ♫ ♫ ♫ ♫
The New York City Council recently voted to give special names to sections of nearly 200 city streets to recognize aspects of the city's cultural history. Although the term has been around for over 100 years, perhaps the most familiar name on the list is Alley of tin pansthe publishing center of the musical world from the late 1800s to the 1920s.
As American cities grew in size, grandeur, and wealth, the transformation of music into an all-American art form took place with Civil War-era music and ragtime. These developments required a unified industry for publishing and promoting music. This industry developed in an area known as Tin Pan Alley, located on 28th Street between 5th Avenue and Broadway.
The publishing industry focused on popular music selections and new marketing to reach a wider audience of music connoisseurs. Many have expanded into church music, educational materials, and classic home and school items. Broadway shows by Jerome Kern and Victor Herbert took priority, along with works by composers such as George Gershwin, Irving Berlin and Cole Porter, followed by songs from 1930s films.
Music publishers hired pianists to perform new music, and the dissonance created a sound like hundreds of people banging on tin pans. This is where songwriters banged on cheap pianos to promote their latest compositions.
♫ ♫ ♫ ♫ ♫
Creating and producing new tunes has come a long way since the days of Tin Pan Alley, thanks to modern technology. A music video titled "Red Velvet Glove" is the collaborative work of three people who live thousands of miles apart. Sally Londonsongwriter, singer and multi-instrumentalist, lives in Sydney, Australia, Joel Russell is a Nashville-based songwriter known for his remarkable vocals, engaging live performances, and thoughtful writing style. Adrian Cunningham, another Australian now living in New York, organized the band, offered some thoughts on the arrangement, and oversaw the recording in Manhattan.
Sally London is also a jazz writer who hosts a weekly jazz show. Music Industry News Network commented on one of her performances, stating, "Sally's cheeky, often playful and funny sensuality is like a splash of icy water under a desert sun. Her voice, slipping between a sex kitten purr and a soulful croon, is what the microphones were made for.
♫ ♫ ♫ ♫ ♫
According to the author Ted Giola"New rules for musicians in China include… a ban on lip-synching? If this is true, 90% of major US pop music groups will no longer be able to perform in China."
♫ ♫ ♫ ♫ ♫
"Try to be a good person while having a good time doing it." – The Paul
Lew Shaw began writing about music as a publicist for the famed Berkshire Music Barn in the 1960s. He joined the west coast rag nearly thirty years ago and has guided this article through the two name changes since then as we became The syncopated times. 47 of his profiles are collected in Jazz Beat: Notes on Classic Jazz. The second volume, containing the profiles from 2013 to 2016, will soon be available on Amazon. He draws on his vast network of friends and relations throughout the world of traditional jazz to bring us his jazz notes column every month.