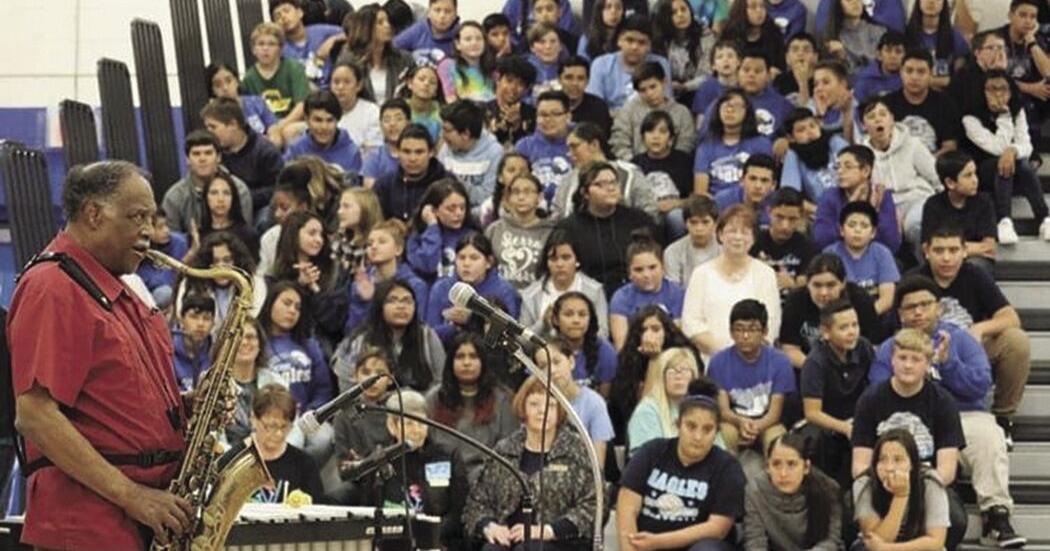 Jazz is in the air | Vision
Roswell Jazz Festival returns as a live event
The Roswell Jazz Festival (RJF) returns as a live event for its 15th anniversary, featuring over 20 musicians who are masters of their genre. From October 12 to 16, in nine halls – some paying, others free to the public – performances will take place throughout the city.
A place is new: "We are headquartered at the Clarion this year, not at the civic center," said RJF artistic director Michael Francis. Francis has been organizing the event since 2006.
The Roswell Festival was born with New Orleans jazz musician Dr. Roger Dickerson, who found refuge here with his friends Frank Schlatter and Carole Schlatter after surviving Hurricane Katrina at his home in 2005.
A first performance will take place on Wednesday before the official kick-off of the festival. The duo Hillary Smith and Chris Dracup will perform at 6 p.m. at Stellar Coffee Shop on Main Street. It's possible because a lot of artists chose to fly early. Francis said it was to make sure the musicians arrived on time given the many delays and cancellations airlines are currently experiencing. "We offer all musicians a free room on Wednesday evening if they come on Wednesday. Most of them are able to do it," he said.
Francis said organizing the event and getting everyone to participate has been difficult this year.
"The bright side is that we have new energy after two years of layoff, and everyone is excited and I think it will be one of the best, if not the best ever. Of course , I say this almost every year, but there are things that will fall into place. One of our trumpeters had a health problem and had to cancel. I contacted Geoff Gallante. Geoff is going to be there. He has now 22 and preparing to enter the Juilliard Music School, and he has studied with some wonderful top trumpeters and I can't wait to hear and see him," Francis said.
Recipient of the March 2015 Young Artist Award, Gallante was already playing with award-winning musicians at the age of five, a true trumpeter prodigy. According to his biography, Gallante didn't just perform across the United States; he has performed with various US military ensembles and with nationally renowned bands. By the age of six, he had secured guest solo engagements with bands such as the Louisville Orchestra, Duke Ellington Orchestra, and Philadelphia Brass Quintet, among others. As a performer of the national anthem, Gallante has appeared at professional gyms across the country. At age six, he became the youngest instrumentalist to perform at the White House and Kennedy Center in Washington, D.C. Gallante's television appearances include "The Tonight Show" with Jay Leno, NBC's "Today Show" and the " CBS Early Show". ." In 2016, he was chosen as one of 32 students from across the country to be part of the Grammy Jazz Session Band from Los Angeles, California, performing at several receptions during Grammy Awards week.
"We have the usual family of returnees who have been here before," Francis said. "We have new faces. Vinnie Raniolo on guitar is brand new, and he's one of the best high end guitarists out there and he's going to amaze.
Francis said Raniolo had just started as a pilot for one of the major airlines. "They're letting him go to come serenade us at the Jazz Festival," he said.
According to Raniolo's biography, the touring guitarist, performer and educator is best known for his dynamic playing which has taken him to 14 countries on three continents, having performed in some of the world's most illustrious venues, such as the Opera in Sydney, Australia, The Palace of Fine Arts in San Francisco, Lincoln Center in New York and the oldest indoor concert hall in the world, the Teatro Olimpico in Vicenza, Italy. In 2019, Raniolo was selected as the best musician of the year 2018 by the International Association of the best professionals. Raniolo is not only an in-demand guitarist, he has appeared on public television and racked up musical film credits such as HBO's "Boardwalk Empire", Woody Allen's "Cafe Society" and Martin Scorsese's "The Irishman". .
One of the highlights of the festival is for younger Roswellians to join the RJF School of Jazz.
"On Thursday it is held at the Roswell Museum. The coolest thing about it is first of all that they have a new director at the Creative Learning Center. Her name is Tamra (Gedde) and she is wonderful. She takes the initiative to get all the schools lined up to go, and they give us permission to let the public in. We don't usually advertise it, old school rules didn't allow us to mix, but this year they say we'll be fine, it lets in a few people who wanted to go. But here's the key: my friend Jim Shearer in Las Cruces, not only is he giving two seminars and playing some of the sets, but he's bringing the New Mexico State University Jazz Band which is an 18-piece jazz band, and they're going to play with Chuck Redd as the centerpiece. They're going to perform music from a past recording that Chuck Redd made with a big band. It opens at 10am, the usual five of us lead for young kids, and after that the big band sets in and they do some prep for their gig, going through some charts. The children will have the opportunity to ask questions, then the group gets going, then we have a lunch break from 12:00 to 1:00 p.m. And at 1 p.m. it's a full-fledged concert with Chuck Redd and this big band around him, and it's going to be one of the most exciting events of the festival," Francis said.
There will be free concerts taking place not only at the Chaves County Courthouse, but also at Reischman Park. "Eastern New Mexico Portales has a big band and they're going to play a gig at Reischman," he said.
RJF 2022 guest of honor is legendary jazz pianist Johnny Varro. He was supposed to be the guest of honor the year the pandemic hit. "He deserves this honour. He's an amazing and young pianist for his age," Francis said.
Varro was available for a telephone interview; the Florida resident was in Texas when Hurricane Ian hit the area where he lived. Although worried, he said his family was ready. According to Francis, who was interviewed later, Varro's family and home were safe.
Asked about Varro's reaction, learning that he was the guest of honor, he replied: "I'm very happy, who wouldn't be. It's good to be recognized and appreciated. A lot of people made me feel really good about it. I have a bunch of years behind me and it has done me good. I got to know a lot of people and made a lot of friends who really love music and that's it. I'm just very happy to have survived this long.
The Korean War veteran began his career during the heyday of swing and big bands. He has met and played with most of the big names. When asked if he had met Benny Goodman, Varro said yes. "I played a lot of his music. I never really played with his band because by the time I entered the swing era, that era had passed the big band era, but I played a lot of his style because when I was growing up I knew a lot of pianists who played with him. Swing is what I really liked," he said.
Growing up in Brooklyn, New York, Varro said he started playing the piano at age 10, first studying classical music. "I got interested in jazz thanks to my father, who was a great jazz lover. He was not a musician, but he could have been if he had had the opportunity when he was a child," he said.
Varro moved to Miami, Florida in 1965, he said. "I don't want it to feel like I was escaping, but there wasn't too much work going on at the time. There were a lot of jazzmen that I knew and thanks to that I was able to get a lot of gigs that way. The work was good. Back then, we enjoyed a lot of other kinds of music, (playing) at bar mitzvahs and other gigs — it was cheesy," he laughed.
Asked about his favorite style of jazz, Varro said, "I grew up in the swing era of jazz music, there was a lot going on with different types of jazz. It was really great for me because it gave me the chance to meet a lot of musicians who were playing at that time. The period being like the 30s, 40s, 50s until the 60s when bebop took over the jazz world a bit.
Varro said the new interest in the swing is encouraging. "As we get older we try to figure out who's going to take over after we're gone and of course there are a lot of young musicians playing that style. Rather than getting into another style of music that might not be as creative than the jazz world," he said.
Asked what he's looking forward to most at the Roswell festival, Varro said, "We can't wait to see everyone after the 'holiday' we've had with COVID killing our music. But it will always come back, the best form of music. Especially jazz music. It is music that is understood by many people who know this music, such as George Gershwin, Cole Porter and great composers of this period. We take their songs and play them and do a lot of wonderful things with their music. We don't try to change their music too much, just improvise here and there. We are very grateful for that. We thank the people who come to see us. »
According to his biography, Varro's first professional job was with Bobby Hackett when he was 16 years old. He then played at Eddie Condon with great jazzmen such as Buck Clayton, Pee Wee Russell, Yank Lawson, Billy Butterfield, Lou McGarity, Peanuts Hucko. to name a few. Varro has worked at most jazz venues in New York including The Embers, Tavern on the Green, Hanratty's, The Metropole and Jimmy Ryan's. He has many recordings to his credit and has toured the world with bands such as the Dukes of Dixieland, Wild Bill Davison All Stars and Peanuts Hucko Tour — Tribute to Benny Goodman and Louis Armstrong. He also performed with the Jackie Gleason Show.
Also performing at the RJF John Allred (trombone), Harry Allen (tenor saxophone), Dan Barrett (trombone), Chris Dracup (guitar, slide guitar), Scott Edmunds (clarinet), Larry Fuller (piano), Francis (piano), Charles Gordon (trumpet), Rebecca Kilgore (vocals), Jon-Erik Kellso (cornet), Ricky Malichi (drums), Houston Person (saxophone), Redd (vibraphone, drums), Shearer (tuba), Hal Smith (drums), Smith (vocals), Richard Simon (bass), Rossano Sportiello (piano), Allan Vache (clarinet), Tom Wakeling (bass) and Curt Warren (guitar).
"I can't tell you how excited we are," Francis said. "It's taking shape – we've had some great sponsorships, our finances have gone from zero to enough to make it happen. It's really getting closer. It's the most generous community I've ever been associated with. people stepped up to support us, including advertising, donations and everything.
Tickets sell out quickly; an event at Pecos Flavors Winery is already sold out. For more information and a detailed schedule, visit roswelljazz.org.