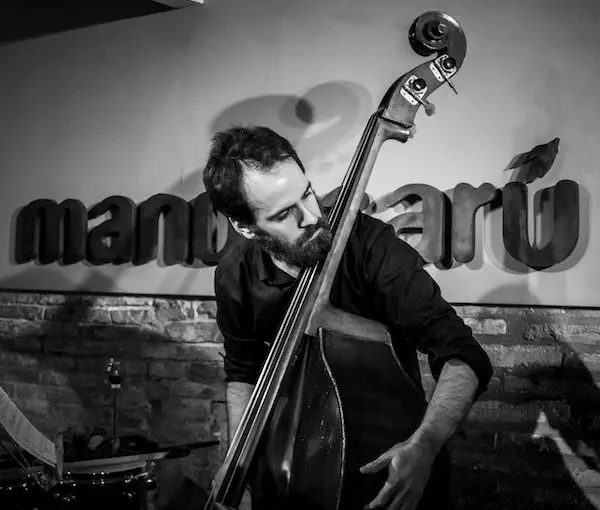 Jazz Album Review: "Despertar" by Manel Fortià Trio – Intelligently Lyrical
By Michael Ullman
Manel Fortià's album of his Spanish-tinged compositions is meant to awaken us to what the bass player can do.
Manel Fortia Trio, Despertar (Segeli Microscopy)
Despertar, which the album's leader translates as something like "awakening", is the first collection of his own compositions by Barcelona-based Manel Fortià with his European trio, made up of Spanish pianist Marco Mezquida and French drummer Raphaël Pannier. Recorded in Spain, the subject of the recording is New York, or rather the bassist's experiences in the city. "This album is very important to me because it reflects one of the most transcendent moments of my artistic life. I feel like living in New York changed me a lot and I grew up there a lot. ensemble and its leader come highly recommended by Dave Liebman and Arturo O'Farrill, Fortià has been a sideman to both, as well as top musicians like Ari Hoenig and Chris Cheek.
Despertar is a sequel and takes the form of a kind of journey backwards. The journey begins with "Sleep", which speaks of sleep; it ends with the cut title, "Despertar". To me, "Sleep" sounds lyrically breathtaking rather than sleepy. It opens with the bassist playing solo to the barely audible crackle of Pannier's brushes. Fortià wears his influences here on his sleeve. This beautiful, carefully paced opening solo quotes Charlie Haden's opening solo on Ornette Coleman's "Lonely Woman."."Fortià's big, vibrant bass sound is captured with precision. There's just the right amount of resonance – few recorded basses sound this warm yet precise. On this opening number, Mezquida quietly enters, playing (discreetly) the single notes of Fortià's beautiful pastoral melody. After an inflated passage, the pianist must repeat the melody on his own. The trio is clearly sensitive to each other: our attention shifts seamlessly from one instrument to the next.
What follows is fun. "Circular" is captioned "at JFK AirTrain." It's a lively, danceable piece, while restless 'Saudades (To Astoria)' finds the pianist playing a steady pattern with his left hand even as he solos with anxious tremolos in a gradual crescendo. The tension in this number builds until the end, when Mezquida suddenly steps back, playing the melody quietly so that the bass player, hitherto in the background, can be heard. The two play the melody in unison and the song ends, thankfully I think. "Espiritual" is a homage to gospel music in 6/8 that begins with a beating drum: perhaps New Orleans brass band music is also an influence here. Remarkably, Mezquida manages to evoke gospel without falling into clichés. The dark "El Dia Después" is dedicated to a famous pedestrian street in Barcelona: it contains one of Fortià's most elegant solos. Charles Mingus denounces bassists who sacrifice sound to play fast; I imagine he would have liked this Spanish bass player. Fortià doesn't like guitar frills. He's more Charlie Haden than Scott LaFaro: every note is played so distinctly that it takes on dramatic importance.
After the Spanish interlude of "El Dia Después", the album returns to Manhattan with "Crescente", which is played in honor of Grand Central Station. This track, like much of the album, will strike listeners as cleverly lyrical, its appealing yet distinctive melodies. "Simple", however, is an oddly edgy piece. The pianist begins at something like a double beat. Dedicated to Jackson Heights, he settles down when the bassist solos, to warm up again. It's hard to imagine what's simple about Jackson Heights, but this lineup leads to the title cut. After having had our sleep and various travel experiences, we arrive waking up to the sweetly evocative "Despertar." The track offers satisfying closeness to this set of well-played and recorded originals. Although Fortià appeared on around 50 albums as a sideman and co-frontman, readers may not have heard of him. (Bass players have a way of staying anonymous.) This album of his Spanish-tinged compositions is meant to awaken us to what he can do.
---
Michael Ullman studied classical clarinet and was educated at Harvard, the University of Chicago and the University of Michigan, from where he earned a doctorate in English. Author or co-author of two books on jazz, he has written on jazz and classical music for the Atlantic Monthly, New Republic, High fidelity, stereophilic, boston phoenix, boston globe, and other places. His articles on Dickens, Joyce, Kipling and others have appeared in academic journals. For more than 20 years, he has written a bi-monthly jazz column for Fanfare Magazine, for which he also criticizes classical music. At Tufts University, he primarily teaches Modernist Writers in the English Department and Jazz and Blues History in the Music Department. He plays the piano badly.