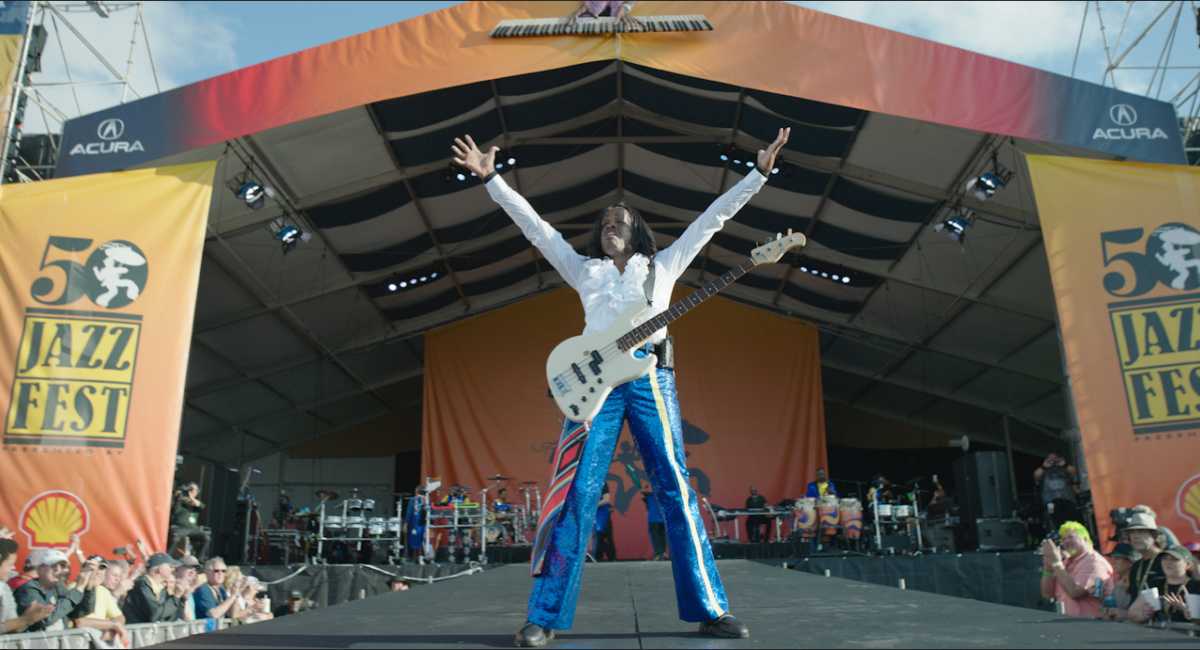 Frank Marshall talks about "Jazz Fest: A New Orleans Story"
Opening in theaters in New York and Los Angeles on May 13 is the new documentary "Jazz Fest: A History of New Orleans," from director and producer Frank Marshall and co-director Ryan Suffern.
The documentary celebrates 50 years of the legendary New Orleans Jazz & Heritage Festival, which celebrates New Orleans' unique food and music culture. Starring in the film are Jimmy Buffett, Bruce Springsteen, Katy Perry, Pitbull, Al Green, Herbie Hancock, Aaron Neville, Earth, Wind & Fire and many other musicians and celebrities.
Frank Marshall began his career as a producer on Peter Bogdanovich's 'Paper Moon', 'At Long Last Love' and 'Nickelodeon', before teaming up with Steven Spielberg on some of his most famous films, including 'The Adventurers of the Lost Ark", "The Color Purple, 'Empire of the Sun' and 'Hook'.
Marshall would go on to produce beloved films such as 'Poltergeist', 'Who Framed Roger Rabbit', 'The Sixth Sense', 'Signs', 'Seabiscuit', 'The Bourne Supremacy', 'The Curious Case of Benjamin Button'. "Sully" and most recently the "Jurassic World" trilogy, with "Jurassic World Dominion" slated for release on June 10. He is also producer of the untitled fifth film "Indiana Jones", directed by James Mangold ("Logan").
As a director, Marshall is best known for directing 'Arachnophobia', 'Alive', 'Congo' and 'Eight Below', as well as his debut 'The Bee Gees: How Can You Mend a Broken Heart'. as director. as a documentary filmmaker.
Moviefone recently had the pleasure of speaking with director Frank Marshall about his work on "Jazz Fest: A New Orleans Story".
Moviefone: To begin, can you tell us how you got involved in this project and why it was the right time to tell the story of the New Orleans Jazz Fest?
Frank Marshall: Well, it was one of those situations where I was in the right place at the right time. I was at a post-concert meeting and met Quint Davis, who was the co-founder of Jazz Fest. It was in the summer of 2018. He was talking about Jazz Fest's 50th anniversary coming up in 2019 and they wanted to do something special like a documentary. I said, "Well, you're talking to the right guy. I love Jazz Fest. I love music and I love documentaries." So it all started with a meeting with Quint Davis.
MF: You filmed at the 2019 Jazz Festival, and it's a huge event with different acts playing different stages at the same time. How did you decide which artists to film and include in the film?
FM: Well, that's a good question, because again, the key was Quint Davis. We obviously knew we couldn't cover all the artists that were there, so actually there were two directors, Ryan Suffern and myself, because we really had to split up what we were covering. Quint was very good at being able to give us both old and new artists, and artists that he saw as representative of what the festival is really about, which is culture and heritage and the universal language of music .
As you know, it's not just jazz. It's blues, gospel and rock. It's all kinds of music. We had three different film crews, and sometimes we split the three crews, or sometimes we put them all together. So it had a lot to do with logistics and planning was very important.
MF: Can you also talk about the research into the festival's archive footage and how you decided what you wanted to include in the film?
FM: Well, there is a foundation, the New Orleans Jazz and Heritage festival Foundation, and they are the custodians of the archives. I have to say that's one of the things I love about making documentaries, it's a bit like a little treasure hunt. Every once in a while you get a gold medal bloom, and when we found the 16mm footage of George Wein at the first Jazz Fest with Mahalia Jackson, we knew we had something very special. They have continued to provide us with all the photos and footage from previous festivals over the past 50 years.
MF: Can you talk about the interview with festival founders George Wein and Quint Davis and the importance of their work in keeping Jazz Fest going after all these years?
FM: It's obvious, you can really see it in the pictures, that they are passionate, not only about music, but also about New Orleans and Louisiana. It's really probably the only place it could have come together because I call it a gumbo of music and culture. It really reminds people that this is the birthplace of jazz and they want to celebrate that. Being able to talk to both founders was pretty amazing. They are still as enthusiastic today as they were then.
MF: You finished the gospel music section of the movie with Katy Perry's performance at Jazz Fest 2019. Did you know she was going to sing a gospel song in her performance before we started filming?
FM: Yes, actually, I had a moment to talk to Katy Perry and found out that she was kind of gospel raised and obviously we knew she would have this giant gospel choir behind her for her number. So, it's quite logical to include because gospel leads to all types of music. It's a base for all types of music, and it then morphed into Katy Perry with this wonderful gospel choir behind it.
MF: You can't tell the story of New Orleans without telling the story of Hurricane Katrina. Can you talk about this section of the film, as well as Bruce Springsteen's interview about his legendary Jazz Fest 2006 performance of "My City of Ruins?"
FM: The Katrina section was just amazing. I was actually there right after Katrina. We were trying to prep "Benjamin Button" at the time, so I knew the immense impact that hurricane was having on this town, and as Quint says, "Why rebuild?" He said, "We're coming back. What it meant to the townspeople that Jazz Fest was coming back is that it brought them back. It's sort of the perseverance, not just of Jazz Fest, but of the city and Bruce Springsteen's first visit to Jazz Fest was around this time.
For him to feel the public, bring him back and preach to him that everything will be fine. New Orleans was back. It was just one of those special moments where music can bring you hope, which is kind of what I hope the movie does. The first time Jazz Fest was canceled was because of the pandemic, so we wanted to bring the world back with Jazz Fest and this movie.
MF: Finally, Jazz Fest is not just about music, but also about New Orleans food and culture. Can you talk about the importance of food at Jazz Fest and did you eat anything you really enjoyed while making this movie?
FM: Well, yes, food is a huge part of Jazz Fest and Quint calls it the world's largest backyard barbecue. It is what it is. You walk around and you hear good music. There are also many good smells and flavors in the air. I must say that I love seafood gumbo. It's my favorite. I could eat this all day.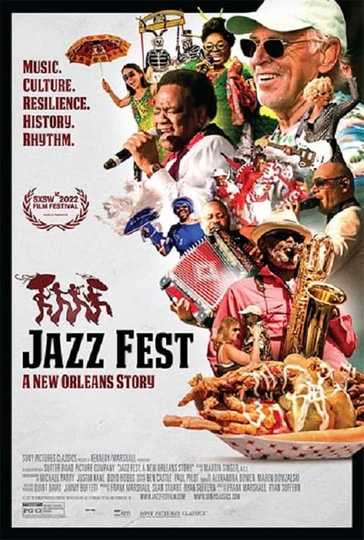 Jazz Fest: A History of New Orleans
Not rated yet1h34
Jazz Fest: A New Orleans Story weaves together live performances and interviews from the 50th anniversary of the iconic festival, featuring some of the biggest names…