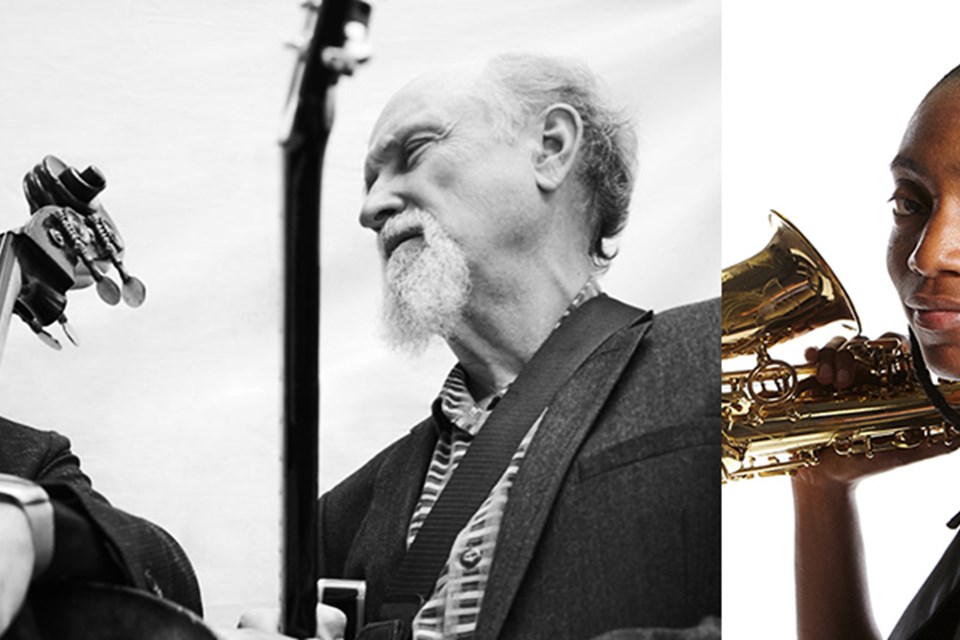 Exclusive: Dave Holland and John Scofield announce second EFG London Jazz Fest show and Lakecia Benjamin / Alina Bzhezhinska greet John and Alice Coltrane
This year EFG London Jazz Festival Short of 12 To 21 November across the capital and will now include two performances of Dave Holland / John Scofield To Cadgoan Room, with an additional concert in the morning at 4 p.m. before their show already scheduled at 7 p.m. on Sunday November 14. These two veteran virtuosos will team up for two conversational sets of originals, drawn from their extensive catalogs, as well as playing favorite jazz standards.
Other additions to the program include an evening of music honoring John and Alice Coltrane performed by a booming American sax star Laccia Benjamin making his London headlining debut at Cadogan Hall (November 13) performing music from his much-loved 2020 album Pursuit: Les Coltranes, his star-studded celebration of the music of John and Alice. Concert to open with UK-based harpist Alina bzhezhinska who performs a selection of original pieces and spiritual jazz songs by Alice Coltrane via a solo harp and electronic ensemble.
Another tribute concert takes the form of The Vigil Songbook by Chick Corea and features former saxophonist Corea Tim Garland with the best pianist Jason rebello step into the shoes of the jazz legend, alongside a punchy rhythm section from the drummer Asaf Sirkis, guitarist Ant Act and electric double bass player Conor Chaplin (Kings Place, November 15). With much of the club's program due to be announced soon, one evening confirmed is an appearance by the famous Danish pianist / conductor Catherine windfeld with the support of the Israeli trumpeter Itamar Borochov (Ronnie Scott's, Nov 15), both recipients of the 2020 award LetterOne Rising Stars Jazz Awards and appear as part of the European New Talent Award tour dates. And leading pianist Robert mitchell will appear with his True think bassist group Tom mason, drummer Saleem Raman more guitarist Zayn Mohammed and singer Alice zawadzki on a double program with the UK-based Polish singer Marta Gornitzka Sextet at Milton Court (November 15).
Other novelties include the haunting Indian classical singer Ranjana Ghatak which opens for Shai Maestro Quintet (Cadogan Hall, November 15), while Take five gifts … at the Southbank Center, presents the future of British jazz with captivating sets by J Frisco, Jean Pape, Samuel Eagles, and more (November 20). There is also a double bill of suave lounge-jazz keyboardist Greg Foat and exciting Brooklyn-based MC / singer / drummer Kassa overall at Color Factory. Another notable opening set comes from the very talented Neria which opens for Charles Lloyd Quartet (Barbican, November 20).
These shows join those already announced in Jazzwise which include Archie Shepp and Jason Moran (Barbican, November 12); Daniel Casimir (Purcell Rom, November 12); Robocobra Quartet and Archipelago (Kings Place, November 13); Lisbon underground music ensemble (Purcell Hall, November 14); Aynur (Barbican, November 14); Damon Locks Black Monument Set (Earth, November 15); Marcel Khalifé and Bachar Mar-Khalifé (Barbican, November 15); Avishai Cohen (Barbican, November 16); Cecile McLorin Salvant (Salle Cadogan, November 16); Shabaka Hutchings, Cassie Kinoshi, Elliot Galvin and Laura Jurd, with the London Sinfonietta (QEH, November 17); Jasper Høiby's Planet B trio (Purcell Rom, November 18); ACOUTASTIC BOMBASTiC by Jason Yarde (Purcell Hall, November 19); Soweto Kinch & London Symphony Orchestra: The Dark Peril (Barbican, November 19); Calabash (Kings Place, November 19); Matthieu bourne (Place du Roi, November 20) Yazz Ahmed with the BBC Concert Orchestra (QEH, Nov. 21) and Brad Mehldau trio (Barbican, November 21). Jazzwise is the festival's media partner.
Visit the official festival website for details and tickets www.efglondonjazzfestival.org.uk and efglondonjazzfestival.org.uk/events/dave-holland-and-john-scofield