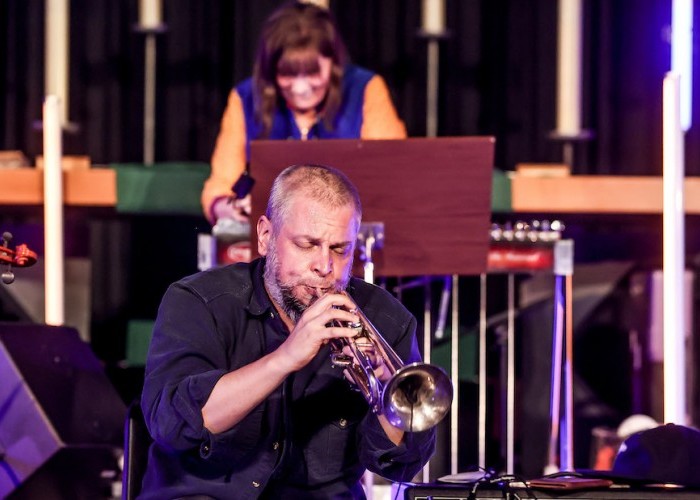 Berlin Jazz Festival returns live
---
By Suzanne LorgeINovember 29, 2021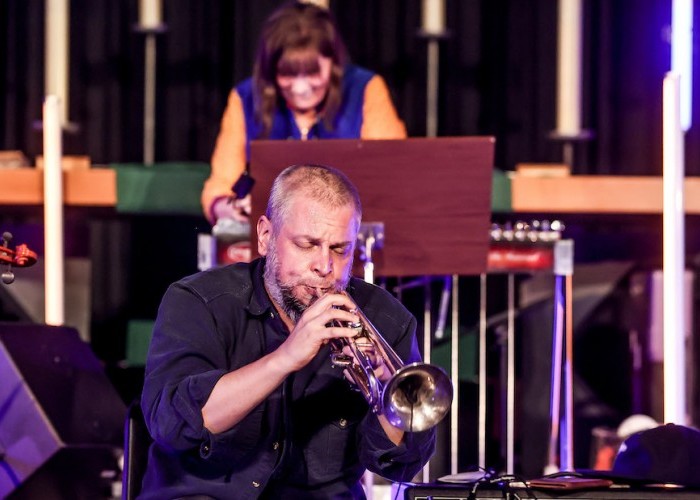 Jazzfest Berlin returned to in-person concerts from November 4-7 with the acclaimed arts organization's 58th annual jazz festival. Building on last year's innovative digital connection – what artistic director Nadin Deventer calls the "transatlantic bridge" – this year's festival broadcast concerts from four global cultural centers, featuring more than one hundred musicians in 40 improvised performances under the general theme Scenes from now.
"We wanted a different environment, to present live and multimedia concerts," Deventer explained in a mid-festival interview. "We wanted it to be an immersive experience, with the audience at the center. "
The different environment worked: Almost all of the in-person shows this year were sold out, with 5,000 members of the audience on-site, in person, over the four days and another 15,000 online through the festival website.
This hybrid concert format was born out of necessity in November 2020, when the pandemic forced the cancellation of all live performances across Germany. In response to the crisis, Deventer and his team quickly crafted a quality broadcast channel to bring the festival to fans, switching between remote concerts broadcast from both the Roulette performance space in Brooklyn and the Arts Center. silent and green in Berlin.
With the obvious success of this venture – it won Deventer the 2021 European Jazz Network Prize for Innovative Programming – the organizers decided to prepare a digital presentation of this year's festival, with or without live seats. Not only would the festival's performances be guaranteed regardless of the evolution of the pandemic, but Deventer could implement a diversified and decentralized program in collaboration with local artists in distant metropolises.
The format was simple, though ambitious: at silent green, the cavernous industrial design venue that served as the main festival site in Berlin, a seat for the main stage (Betonhalle) would include a multi-angle projection of a concert. or a film from Cairo, Johannesburg or São Paulo alongside live performances featuring jazz musicians who, limited by location and perhaps subgenre, would generally not appear on the same bill as the artists broadcast continuously. There would also be one-off concerts at other Berlin venues, both for in-person participation and for later viewing online.
On day one, this format gave ticket holders back-to-back sets from Amsterdam's whimsical IPC Orchestra; New York guitarist Mary Halvorson, with her gifted experimental group, Code Girl; and The Killing Popes from Berlin, in a mix of electro, free jazz and ambient sound. Between these last two was Schwarzfahren (Skip tariff), a form-changing art-house clip by São Paulo songwriter Negro Leo and one of the festival's many commissions.
Meanwhile, across town at elegant Pierre Boulez Saal, composer / pianist Vijay Iyer presented his trio with bassist Linda May Han Oh and drummer Tyshawn Sorey in selections from Worry, their new album on ECM. Playing in the round, the three creative musicians followed an internal referential imperative towards sweeping dynamics and oceanic grooves; the audience responded with a talkative standing ovation.
Just an excerpt from the program of the second day reveals the vision of the festival in all its elasticity: on the silent green stage, the Cairo nonet Elephantine has fashioned post-bop constructions from seemingly unrelated folk and jazz idioms; São Paulo Underground, the avant-garde Brazilian trio of composer Rob Mazurek, presented the expressionist and electronic film Ping pong (a second commission); and, in a live broadcast from Johannesburg, three South African archers – Madosini, Cara Stacey and Lungiswa Plaatjies – improvised on traditional stringed instruments, percussion and vocals (a third commission).
Later, at the historic Kaiser-Wilhelm-Gedächtniskirche in central Berlin, Brooklyn trumpeter Nate Wooley conducted a 10-piece orchestra and six-part choir on "Seven Storey Mountain VI", the final part of his song. larger work based on author Thomas. Merton's autobiography on religious conversion. Wooley's adaptation, however, speaks more of modernism than orthodoxy: the ensemble has gone from contemplation in traditional harmony to a welter of electronic dissonance, rushing towards a sharp denouement – a calm and upright choral section. built on folk singer Peggy Seeger's protest song "Reclaiming the Night."
Wooley continued with such intensity of composition on the third day, this time in front of his very focused quartet on "Columbia Icefield", an eerie, minimalist melody that evokes both the magnificence and the desolation of the vast geography of the Northwest of the United States. Peaceful. New York-based pedal steel guitarist and jazz composer Susan Alcorn joined in; like Wooley, in her writing, she is inspired by raw nature and favors clear and raw sounds. She had presented her own band on day one with select tracks from her surprisingly rare album, Pedernal (Not relative).
Alorn and his quintet performed these clean selections in the Kuppelhalle of silent green, a small chapel on the grounds of the art center that served as the fourth performance space, a space that encourages attentive listening. There, on the last day, multi-instrumentalist Nancy Mounir screened her commissioned film, Those who were not invited, a documentary that recalls the fascinating world of 1920s Arab singers in Egypt and highlights their extraordinary abilities as inventive, microtonal musicians.
On this last evening, pianist Sylvie Courvoisier and her trio also performed at the Kuppelhalle, winning one of the last places in the festival program. Decisive and visceral player, Courvoisier drew a large part of her set from her release in 2020 Free hoops (Intakt), recreate some of the album's most exciting and imaginative moments. The experience of such real-time glow is the best, of course, but at a distance is very close.
Check out almost 25 hours of festival programming for free on the Berliner Festspiele On Demand website until November 2022. Comics
---
Martino was dazzled as a player and showed incredible resilience in overcoming life's challenges.

Nov 2, 2021 12:45 PM

Jazz guitarist Pat Martino died on November 1 at the age of 77 after a long illness.

Known for his incredible guitar …

Jamaaladeen Tacuma, one of 52 grant recipients, received $ 40,000 to return to his hometown in North Carolina and create a musical workspace.

October 19, 2021 10:35 AM

South Arts, a regional nonprofit arts organization, awarded $ 2 million in grants in October to support jazz musicians…

The Village Vanguard's great jazz sanctuary in New York City reopened in September.

Oct 5, 2021 12:48 PM

The tables were a little less numerous. The air filtration system was new. But when Village Vanguard reopened in …

Roy Hargrove enters the DownBeat Hall of Fame.

23 November 2021 11:30

Readers spoke at the 86th Annual DownBeat Reader Survey, paying special tribute to recently departed legends…

Esperanza Spalding performing with the San Francisco Symphony.

Nov 2, 2021 12:40 PM

The Davies Symphony Hall in San Francisco is located across from the War Memorial Opera House and one block from…