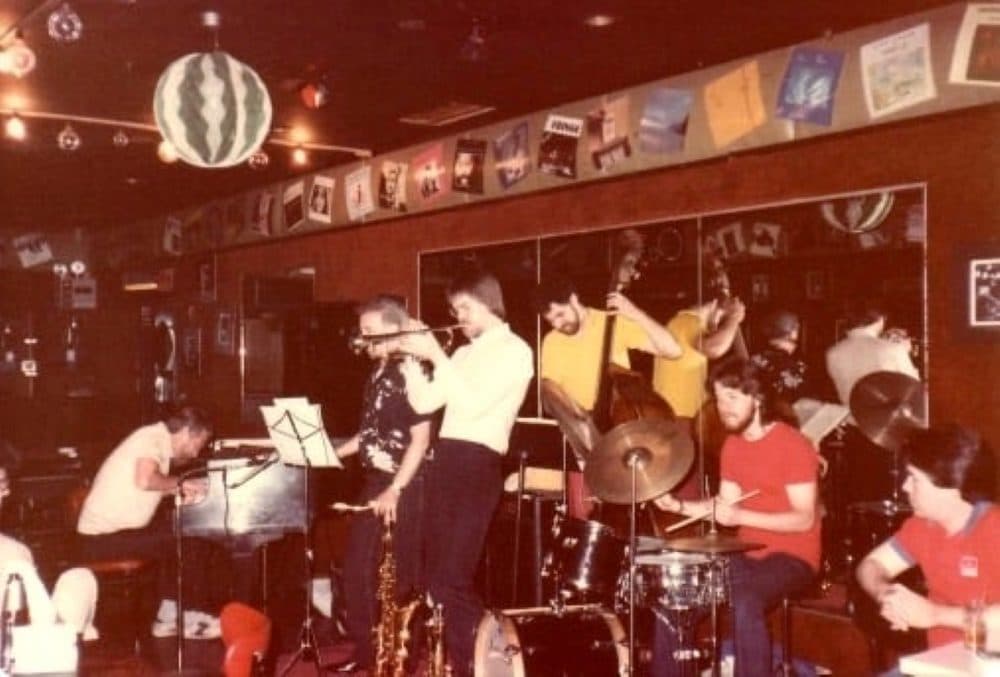 25 years later, in memory of the Willow Jazz Club of Somerville
On March 27, 1997, singer Melissa Kassel and saxophonist Tom Zicarelli showed up for another evening of musical creation at the Willow Jazz Club in Somerville's Ball Square. But the building was padlocked. The waitresses were on the sidewalk crying. The club was not closed because the avant-garde improvisers who played there sometimes drew tiny audiences. It was because co-owner Neil Mazza had been busted into a drug ring.
"All of a sudden it clicked: that's why they let us come back month after month," Kassel recalls. "In retrospect, the whole place didn't really make sense until it closed and we found out what was going on," says Zicarelli.
Saxophonist Jerry Bergonzi realized the Willow was a little different from the rarefied concert halls he played in with Dave Brubeck when he saw on the news that a disgruntled patron had fired shots and taken hostages in the club. Bergonzi uses the jazz ballad "Two Different Worlds" to describe the Willow, which was divided into two rooms by swinging doors. "On the one hand, you had a jazz club where we all did our thing. On the other side was a local bar where we later found out they had been doing all sorts of illegal betting and dealing drugs." Bergonzi adds that Mazza "was a really nice guy who always respected us. I never felt unsafe there."
"There was no management there to watch you or worry about how many people showed up. They just didn't care," says Mat Maneri, who played viola and fiddle with his own bands and with his father, microtonal pioneer Joe Maneri, at The Willow. – we I've never seen it. If you're running a cocaine ring, what better way not to attract attention than to have those musical numbers out of the mainstream? »
Keyboardist and agent Brian Walkley first booked John Licata's Trombone Madness to play Willow on a weekly basis in 1980. "I don't know how Brian found the place, but he was the kind of guy who could convince anyone of anything," recalls Licata. The hall's disco ball and the mirrors behind the stage revealed its past as a dance club. Soon there was jazz every night. WERS began broadcasting live from the club, and future jazz superstars like John Scofield, Bill Frisell, Fred Hersch and Joe Lovano appeared. But the artists who really put Willow on the map were The Fringe and James Williams.
The Fringe – originally made up of saxophonist George Garzone, drummer Bob Gullotti and bassist Rich Appleman – has performed its free improvisations weekly in Boston for nearly all of its 50-year history. John Lockwood replaced Appleman in the 80s, and the group used rotary beaters following the death of Bob Gullotti in 2020. The Boston home of their first residence, Michael's Pub on Gainsborough Street, closed in 1981 Walkley convinced the trio to move to The Willow, though it was a long trip for the NEC and Berklee students who packed Fringe sets.
"Wherever we played, people came to hear us, and once you close your eyes and start playing, it doesn't matter where you are," says Garzone, who played more than 1,000 nights at Willow with the Fringe and his other combos. "The Willow was a safe haven for free music."
Pianist Williams and saxophonist Bill Pierce started at the Willow between gigs with an edition of Art Blakey's Jazz Messengers which also featured a young Wynton Marsalis. "The Willow was gritty, but I love playing in places where you can feel the audience," says Pierce. "Most of the big jazz clubs were dives." As Boston Magazine wrote in 1992 when naming the Willow the best jazz club in Boston: "Jazz was born in dumps like this." Such kudos were impressive for a venue that, five years earlier, had been at the center of a series of federal indictments after an undercover agent working as Willow's waitress testified that an operation of Illegal phone game had been run out of the bar.
The only obstacle to playing the Willow was being able to reach Walkley, who also had an alliance agency and his own gigs elsewhere. "Once you were in the rotation, you stayed there," says saxophonist (and former WBUR nighttime announcer) Charlie Kohlhase. Or so it seemed, until the night Kohlhase showed up with a drummer who had driven from New York, only to find he had been replaced by a darts tournament. Kohlhase called his next album "Dart Night at the Willow".
Groups collected their own cover charge (if they bothered). The musicians also had to put up with the noise generated by the jukebox or the cheers for the Bruins coming from the side of the bar. "They made their noise, and we made our noise," laughs guitarist Jon Damian.
"I found it to be a really good way to learn how to focus and dive deep into what we were doing," Maneri says. "It could be a real culture shock, especially when someone from the bar side came to use the jazz side bathroom," Kohlhase recalls.
When former Somerville Mayor Joe Curtatone was an alderman, he was among those who called on the city to shut down the Willow. "We were really outraged by the activities alleged in the indictment, but it was the loss of an incredibly important place," he says.
Mazza, who served three years in federal prison, died in 2015. Several musicians close to Walkley say he died last year. The Willow Building at 699 Broadway now houses dental and real estate offices. But his uninhibited jazz spirit lives on at Cambridge's Lilypad, where Bergonzi's quartet and the Fringe play every Monday. Charlie Kohlhase and the group Melissa Kassel and Tom Zicarelli each perform there in February. "If you can find a place that allows you to do your art and add some beauty to this world, that's as good as it gets," says Bergonzi.