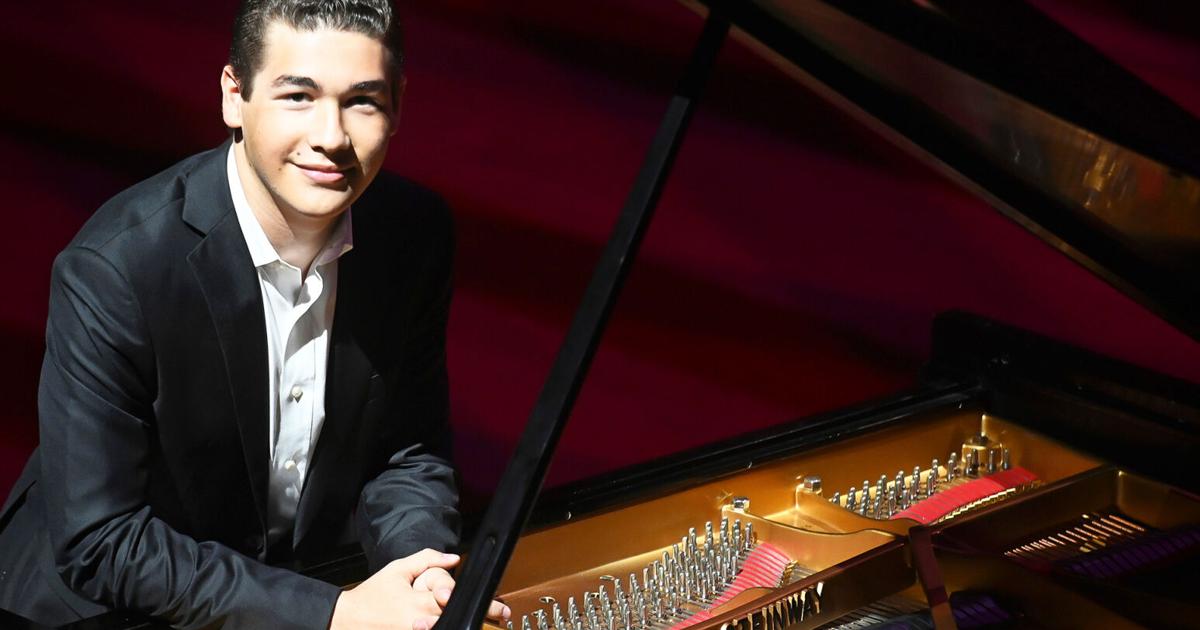 16-year-old jazz prodigy Brandon Goldberg has previously performed at the Newport Jazz Festival and Carnegie Hall. Now he's coming to the Berkshires | Berkshire landscapes
LENOX – For many teenagers, the biggest event of the year they turn 13 is their Bar Mitzvah. For pianist Brandon Goldberg, however, performing at the legendary Newport Jazz Festival in Rhode Island in 2019 as the youngest performer that summer was an unforgettable thrill.
"They treated me like a real musician," Goldberg, now 16, said in a phone interview from his home in Miami, Florida. "I have to be behind the scenes with Christian McBride and Herbie Hancock, around all my heroes."
On Sunday, November 20, Goldberg will make his musical debut in the Berkshires, where he has visited his grandparents' summer home since he was little. He will perform on a vintage Steinway piano in the historic Ventfort Hall Mansion and Gilded Age Museum accompanied by bassist Ben Wolfe and drummer Aaron Kimmel. The Brandon Goldberg Trio's Berkshires Debut is a signature event at Berkshires Jazz's three-day Fall Jazz Sprawl in Lenox and Pittsfield.
The young jazz phenomenon started playing the piano at the age of 3.
"I came home from kindergarten one day and played some songs they taught us," Goldberg said. "I got into jazz because my grandparents showed me a Rat Pack video. I became obsessed with Frank Sinatra, he's still my hero. I also found Tony Bennett, especially with pianist Bill Evans When I heard Bill play, I thought, this is what I want to do.
His parents – who are also not musicians – were looking for programs that would accept such a youngster playing at a higher level. They found what they were looking for at the University of Miami summer camps.
"I've had the opportunity to work with some real giants of the jazz world, like the late Chicago great Ira Sullivan who played with Art Blakey's Jazz Messengers. He helped a young Herbie Hancock, he was one of the few who took a 6-year-old seriously," Goldberg said.
At age 8, Goldberg won a competition to perform at Carnegie Hall and appeared twice on NBC's "Little Big Shots" television series, which he promoted on Harry Connick Jr.'s TV show.
"He's an incredible musician," Goldberg recalls, "he does all his own arrangements and has a real vision of what he wants. He's a perfectionist. Playing the piano with him was something I treasured.
Goldberg recorded his debut album "Let's Play!" at age 11, followed by "In Good Time" a few years later. Both were recognized by Downbeat Magazine as among the best albums of the year.
At Ventfort Hall, the trio will perform "music by Henry Mancini and the Great American Songbook [selections] that not everyone plays, beautiful, unique songs that have been lost in the shadows, by composers like Jerome Kern, George Gershwin, Irving Berlin, Cole Porter," Goldberg said. Many songs were recorded by Sinatra, he explained.
The poster includes Goldberg's own compositions.
"I've always heard melodies in my head, as far back as I can remember. I try to be as original as possible, true to my individual voice," he said.
In addition to writing for the trio, quartet and quintet with which he plays, Goldberg has composed two orchestral works for piano, commissioned, performed and recorded by the Miami Symphony Orchestra.
"I love watching how great composers have written and what they were thinking, how it influenced other music and later composers," he said. "When I was writing my symphony, I looked at Stravinsky's 'The Rite of Spring' and 'The Firebird' to see how he phrased certain instruments, which combinations worked best."
He also studied Gershwin – "he was a jazz pianist" – and Bach.
"I play a lot of Bach to understand his harmony and his genius. Bach is truly perfect music, disconcerting and clear at the same time. There is an inexplicable quality in it, it is religion.
Goldberg learned to accept and embrace the "Old Soul" soubriquet. It is certainly well deserved. Listen to him play with your eyes closed and it's hard to imagine he's not a seasoned veteran of the jazz scene.
"There's a certain quality that older things have, we see it in furniture, in culture, in movies," Goldberg explained. "I hear it in the music."
Her confident, joy-filled performance at the Newport Jazz Festival can be viewed on YouTube.
"Herbie Hancock is one of my biggest inspirations," he says from the stage, playing music by his idol and Thelonious Monk alongside his original compositions and arrangements from Duke Ellington to Paul McCartney.
Goldberg started playing with Wolfe six years ago and with Kimmel a year ago. "It's really comfortable, like we've been doing this for a while," he said. "I've been so lucky to play with so many amazing musicians. I consider Ben [who also teaches at Juilliard] to be a close friend and mentor. Ben is 60 and Aaron is in his 30s, so there is a big age difference between the three of us. But I hope you don't hear it musically.
Improv guides and motivates them 100% of the time, he explained. "They're such great listeners and know so much music, it's really collective improvisation. It's my solo, but their ears are wide open and hear everything I play. If I do something different, they adapt without taking anything away musically.
He quotes classical music when he improvises, he noted. If he always liked to listen to it, it took him a long time to start playing. Nowadays, "it's one of my favorite activities, [spending] a few hours playing some Bach preludes and fugues and Chopin studies, just to make sure my technique is there.
He is working on a third album, inspired by the music of Henry Mancini. "It was the hits of the 1960s, there's an accessible quality that people don't realize because it has the stereotype of older music." He hopes to do it again.
Film music is a special interest, he said. "The way Mancini wrote his films 'Breakfast at Tiffany's' and 'Days of Wine and Roses', how he captures the mood and writes songs you just have to listen to. John Williams does it with effect very different, but still has singsong and recognizable melodies.
Looking ahead to college and beyond, Goldberg "wants to be in New York playing jazz music to the highest degree possible," he claimed. "For me, jazz music is that, if I can do that well, I'll be happy."
He's on the right track, having performed on the biggest stages coast to coast, including Jazz at Lincoln Center, Dizzy's Club, Birdland Theatre, Blue Note and the Apollo.
The Ventfort Hall gig lasted three years, said Berkshires Jazz chairman Ed Bride.
"The first time we heard of Brandon was when one of our board members came home from the Newport Jazz Festival with a CD by this 13-year-old. We were amazed by it," he said.
Berkshires Jazz presents and promotes jazz music throughout the county and, for eight seasons, has scheduled a Jazz Prodigy concert at the Berkshire Athenaeum during the annual Pittsfield City Jazz Festival, now held each April during Pittsfield Appreciation Month. jazz.
"We're booking someone who's not out of high school yet," Bride noted. "We were the first paid gig for some of these artists, which is just a thrill. But we couldn't afford to bring [Goldberg] here from Florida.
When his mother contacted Bride to introduce her talented pianist son, "I said, 'He's in my CD player in my car!'" the impresario said. It was then that he learned that the family had a second home in the Berkshire area.
"We were right to work on what we could do," Bride said.
The exceptional young talent that Berkshires Jazz presents is the future of jazz, Bride explained. "We're getting old, and just [like] classical music, we are all concerned by the aging of the public. We don't want to be a museum piece, we want to see it flourish and grow with new ideas.
"We started featuring saxophonist Grace Kelly when she was 14," he added. Now 30, "she came twice this year and attracted 250 people each time in two months. Who does that in jazz around here?
Brandon Goldberg's appearance is the cornerstone of the first Berkshires Jazz Fall Sprawl, three days of mostly free concerts at various venues in Lenox and Pittsfield supported by the Mill Town Foundation. The lineup includes the 17-piece Amherst Jazz Orchestra at the Flat Burger Society in Pittsfield on Saturday, and guitarist Luke Franco and his trio on Sunday at the Gateways Inn in Lenox.
"We've been looking at Ventfort Hall for a while as a venue to hold a program," Bride said. "Hopefully this will be the first of many events there."
"I'm really excited to do this," Goldberg said, "The Berkshires are one of the most beautiful places I've ever seen. This is my first time playing here and I hope it won't be not the last.
His dream, he admitted, is to play at Tanglewood, which he has visited often over the years. "Some of the most incredible musicians of all time have been there," he said.